UAA: Figueroa on fire
NEW YORK -- From start to finish at the Under Armour Association on Saturday, there were close games that went down to the wire and standout performances from players both highly rated and still flying under the radar. Rivals.com was on hand to take in all the action.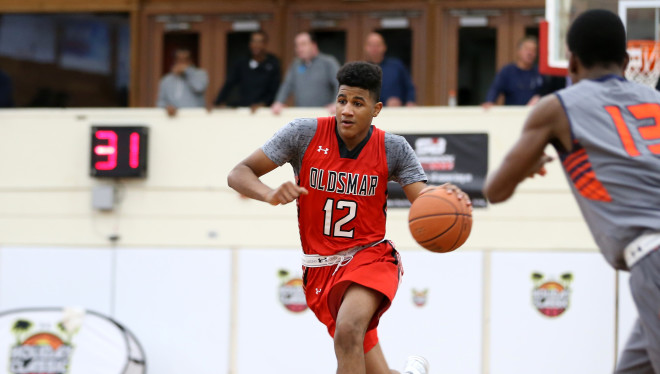 FIGUEROA EXPLODES IN EARLY ACTION
L.J. Figueroa came into the weekend already ranked as a four-star prospect and already held several scholarship offers. That hasn't stopped him from working on his game as he started off with a dominant 42-point performance.
The 6-foot-5 small forward did most of his damage playing in the middle of the zone offense for Team Breakdown. He connected on jumpers in the middle of the zone, off dives to the basket, or just straight up beating up his defender and finishing over them. At other times, he slid outside and connected on a few three-pointers. There was nothing Figueroa didn't do in the narrow win.South Florida head coach Orlando Antigua was sitting courtside along with an assistant. Miami, Florida and several other schools had assistants in attendance.
"USF, Florida, Miami, Louisville and I've talked to some other schools that haven't offered yet," Figueroa. "All the schools are pretty even right now because I want to take visits next school year, so I'm not sure which ones I like."
FLAGG BREAKS OUT
Houston Defenders small forward Savion Flagg had generated some buzz in recent months, but Rivals.com had the chance to see him in action to get our first look at him of the travel season. He didn't disappoint and will now be under consideration to be in the Rivals150 at next update.
In a close win over Sports U, the versatile 6-foot-6 wing with a sturdy build pumped in 23 points and did it in a variety of ways. He connected on four of his seven three-point attempts. He went above the rim to throw down some impressive dunks. He's also capable slashing to the basket and finding ways to finish in traffic.
Baylor head coach Scott Drew was in attendance along with assistant coaches from Texas A&M, SMU, Oklahoma State and Kansas State. Flagg says two schools have been putting in the most work with him to date.
"The ones that are recruiting me hardest are Creighton and Texas A&M," Flagg said.
MORE NEWS AND NOTES
Isaiah Washington, a Rivals150 point guard, seems to be at his best in the biggest moments. Both of his games with New Heights came down to the wire, and the 6-foot-1 lead guard was terrific in each, although they won one and lost one. With his team down three with less than a minute left to We R-1, Washington had back to back buckets to give his team the lead and then stole the ball on the subsequent possession to seal the game.
The reason Washington lost a game Saturday was because of the play of Seton Hall commit Myles Cale. The four-star off guard hit a 25-footer at the buzzer to force overtime and then took over the game in both overtimes to get the win for South Jersey Jazz.
Caleb Bennett of Oklahoma Run PWP had two really nice showings. The bouncy 6-foot-5 guard has a pure stroke and deep range on his jumper. A number of Big 12 schools were tracking him.
Anthony Polite looks to have elevated his game since last travel season. Now standing at roughly 6-foot-7, he's also added some athleticism to his game. He had some impressive finishes at the rim. He pumped in 21 points in a win over DC Premier with Jim Larranaga, Rick Barnes, Mark Fox and Bruce Weber in attendance.
It doesn't take long to see why Gerald Liddell is ranked near the top of the 2018 class. The 6-foot-7 wing is smooth as can be. He scores at all three levels and oozes with potential when his lanky body fills out.
KC Run GMC ran Showtime Hoops off the court, and it was a team effort. Creighton commit Mitch Ballock led the way with 12 points, but D'Shawn Schwartz, Elijah Childs and Darien Jackson also played very well.