Tyler Nickel is a prolific scorer - and programs are taking notice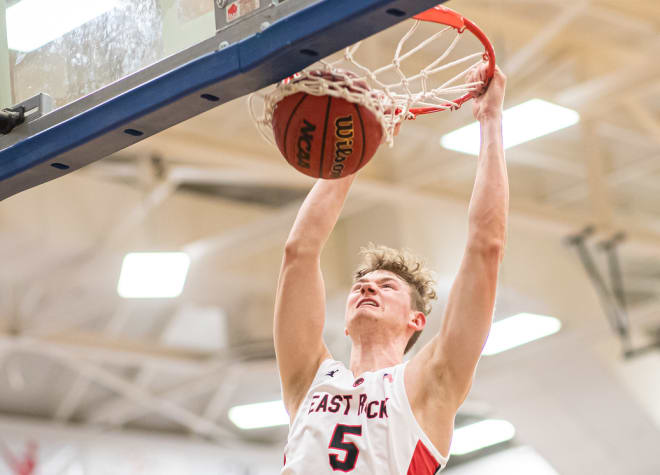 Only 50 players in Virginia High School League history have scored 2,000 points or more in their high school careers. Mac McClung holds the all-time record with 2,801 points. Tyler Nickel recently sat at 1,837 points, with the possibility of two games remaining during his junior season.
Nickel already holds the all-time record for points in a season by a freshman (662) and a sophomore (902), but he is not putting any pressure on himself as he chases the likes of Alonzo Mourning, Allen Iverson, JJ Redick, Moses Malone and McClung.
"I wouldn't call it pressure, but I definitely know in the back of my mind," Nickel said. "I'm more worried about winning a state championship. It is cool to know all the names that are on that record board, though."
Nickel is the No. 91 player in the 2022 Rivals150, making him the No. 24 small forward in his class. With his notable scoring touch, coaches have taken notice of his game, as he is up to 14 claimed offers. However, there are a few he is hearing from more than others.
"I would say the ones recruiting me the hardest would probably be Iowa, Virginia Tech, NC State and Cincinnati right now.," he said.
*****
MORE: Five-star Amari Bailey re-commits to UCLA | B.J. Edwards update | Ramel Lloyd update
2021 Rankings: Rivals150 | Team | Position
2022 Rankings: Rivals150 | Team | Position
2023 Rankings: Top 30
*****
*****
IN HIS OWN WORDS 
Iowa: "They have put on a display so far this year, the way they play with supreme confidence on the offensive end, great shooting. They have also been saying how I would come in and be their go-to scoring guy. Also, they are really good people and they have kept in contact since the first day they reached out. (Assistant) coach (Sherman) Dillard and coach (Fran) McCaffery have been the ones in contact with me."
Virginia Tech: "They have a free-flowing offense and have been very emphatic on telling me I would be their priority and become their primary scorer. They have been showing a lot of love from the very beginning, before anyone else, and they are good people. They are on the rise as a program, in debatably the best conference in the country. (Assistant) coach (Christian) Webster and coach (Mike) Young talk to me the most."
NC State: "They play fast and aggressive on both ends, and they have been showing love for a long time. They always kept in solid contact and they are good people, too. (Assistant) coach (Roy) Roberson and coach (Kevin) Keatts are contacting me."
Cincinnati: "Similar to the other teams, they run a free-flowing offense and play aggressively on both ends. They have been very clear saying I would be their primary scorer and how important I would be to them. They are always checking in on me, really solid people. I talk a lot with (assistant) coach (Jayson) Gee and coach (John) Brannen."
****
MORE ON NICKEL'S RECRUITMENT 
Nickel is still hearing from other schools and trying to build relationships.
"I'm still hearing a lot from West Virginia, Stanford, Memphis and Purdue, but none of them have offered yet," Nickel said.
Nickel has an understanding of what he will be looking for and a time frame, when it comes down to making his final decision.
"I'll be looking for what fits me and puts me in the best position as a player," he said. "I'll look at the coach-team relationship and the atmosphere as well. Also, who will make me the best NBA player?
"I think I will be narrowing my list at the beginning part of the summer and committing this upcoming fall."
*****
NICKEL ON NICKEL 
"I can get a bucket from anywhere and am comfortable playing anywhere, one through three - and sometimes the four - on both ends," he said. "This summer, I will still be working on my defensive energy, staying the same as on offense as well as getting to my spots more often instead of just cooking all the time."
Comparisons can be hard to live up to, but Nickel said he has a few players on his radar.
"I have heard I play like Jayson Tatum and Gordon Hayward," he said.