Top 30 junior Franck Kepnang goes in depth
One of the top big men in the junior class, Franck Kepnang is experiencing an active recruitment.
Ranked No. 29 nationally, the 6-foot-11 center from Cameroon who plays for the Westtown (Pa.) School is an imposing player on the floor and carries a big personality off of it. His game and character have made him a target of programs like Auburn, Connecticut, Dayton, Georgetown, Georgia, Illinois, Indiana, Kansas, Maryland, Miami, Ohio State, Oregon, Pittsburgh, Pennsylvania, Saint Louis, St. John's, Stanford, Syracuse, Texas A&M, UCLA, Vanderbilt, and Washington among many more.
Kepnang discussed his transition to the States, game and recruitment in an extended Q&A with Rivals.com.
Eric Bossi (EB): You are from Cameroon, when did you move to the States? When you moved here what were your expectations or fears and how do you feel things have gone for you?

Franck Kepnang (FK): I moved here about five years ago, I came alone. It was actually weird because I remember being on the plane and as soon as I saw the houses and everything I almost felt as if I belonged here. It felt natural. I didn't get the excitement or nerves like some people from other other countries because I felt comfortable even though I had the language barrier. I was like wow."

EB: So you are here and it was two summers ago that you started to break onto the national scene. You were big, you had personality. What do you think it is about yourself that kind of separates you from other big men around the country.

FK: I would say it's my energy and my passion. Every time that I step onto the court I give it 100% and I'm always talking. Even when I was very young and I started playing I was always talking and I play defense.

EB: What do you think your biggest skill is?

FK: My biggest skill is leadership. I also rebound the ball at the basket and I finish strong.

EB: What do you feel you most need to work on moving forward?

FK: Being comfortable than just around the basket, you know out to the three point line. I want to dribble with more ease and purpose.

EB: How do you feel your junior season at Westtown went for you?

FK: It was very good. One because we won both our league and state championship and also because individually I improved my game. I started to step out to the three point line more and I'm a pretty good shooter. My shot compared the summer and last year to the end of this season, it was a tremendous change.

EB: At Westtown you travel around and play high profile events and good competition. In the summer you also play high profile summer events with the PSA Cardinals, how has your time with them helped your development.

FK: PSA is the best AAU team in the country, for real. Every time you wear that PSA jersey you carry the legacy and it's a culture where we are always pushing each other to be better. It's also beyond basketball. They make sure you are o.k. at school, they make sure you do your work right. They take care of you and make sure that no matter what you will be set for the future and they are always there to help you if you need it.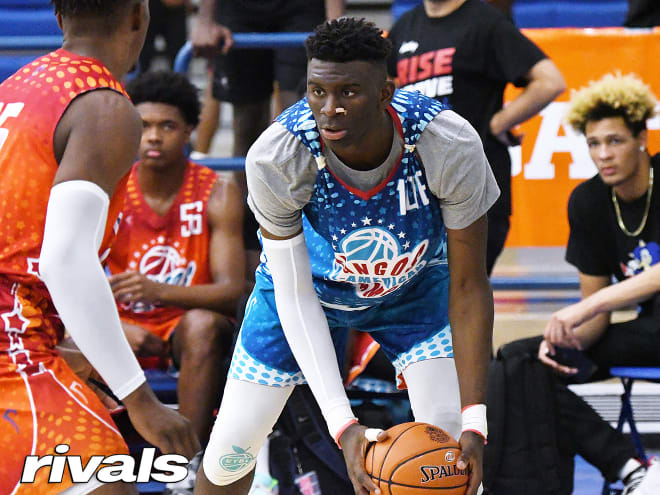 EB: You have a long list of offers so it would be tough to go through all of them, but what are maybe over the last month or two some of the most recent offers you have picked up?

FK: Right now, I don't really pay attention to it. I'm more just enjoying the process so my recruitment is pretty wide open. I'm pretty thankful and blessed so the schools are pretty much at the same level and I'm just taking it in and enjoying it.

EB: There are three schools that we discussed before starting the interview that you did take unofficial visits to for game experiences that I'd like to ask about. The first would be Georgetown, how was the visit to see Patrick Ewing's program?

FK: When we went down there, I saw that they play not at the school gym but at the NBA one with big seating. It was pretty impressive with the arena and everything else. I like the style of play. Obviously they give the ball to the bigs and I think Patrick Ewing is one of the legends and it's an honor to see how he coaches big guys.

EB: Then not very far away you have Maryland, how was the visit there?

FK: It was also another great experience. I was there when they won the Big Ten conference. It was really crazy. To feel the energy that everybody, all the students, had during that game was unbelievable.

EB: St. John's, what was your experience like going over there?

FK: I had never went to Madison Square Garden before so to step in there and just see them play was really good. It's interesting to see a college that has an opportunity to play in an NBA arena with schools like St. John's and Georgetown.

EB: You say you are pretty open in your recruitment, are there any other schools that stand out to you as a place that you would like to take a visit to?

FK: Not yet. Any decision about schools I will take a visit to I will make with coach Mark Carter (mentor/coach with PSA). We will reach out for more information and as a team and work together on those type of decisions.

EB: When it does come time to pick places to visit, what's going to be most important to you?

FK: I think it's going to going to be about who can develop me to the best of my ability. Where I can see myself striving, not only on the court but off the court because for me education is a very big part. I'm big into computers, technology and all of that. I'm a little bit up in the air myself so obviously I want to make sure I go to place that I can be set for life, make sure I get my degree and stuff like that. A place that gives me the opportunity to be the best that I can.
Also, I have a winner's mentality so I want to go to a school where I know we will win. A place where I know I can help my teammates be better and they can also make me better.

EB: Now is a different time. In a usual year you would be playing with PSA, traveling all around, playing in the EYBL. How are you able to keep your game sharp? Do you have access to a gym or a court near home?

FK: With this pandemic unfortunately they took everything down. They took all the rims down at all the parks, there is nothing. I do little stuff. We live in an apartment building so to keep myself sharp with exercise I do stairs. To keep my legs fresh I go outside and run. I do ball handling outside and just try to work on stuff as much as I can and adapt.

EB: Finally, looking forward have you thought at all about when you would like to make a college decision? Or is that something that with things up in the air like they are you can't even start to focus on yet?

FK: That's the kind of stuff that is just up in the air. I haven't focused on it yet.