{{ timeAgo('2020-06-23 06:57:06 -0500') }}
basketball
Edit
Three-Point Play: Cade Cunningham, Texas, Anthony Black
Oklahoma State got huge news on Monday when Cade Cunningham affirmed his commitment despite penalties leveled against the program. Texas went east for an under-the-radar 2021 big man and a dual sport star to watch from the class of 2022 in today's edition of the Three-Point-Play.
1. CUNNINGHAM STICKING WITH OSU ISN'T A SURPRISE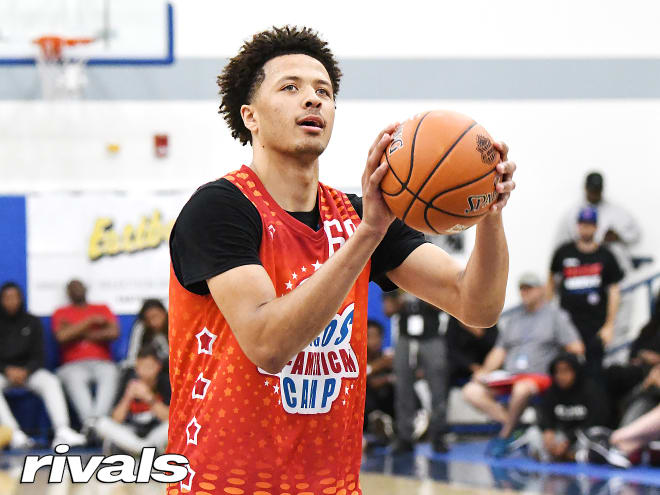 Just over two weeks ago, Oklahoma State was hit with recruiting restrictions and a one-year ban from the NCAA Tournament due to fallout from former assistant Lamont Evans and his arrest during the FBI investigation into college basketball. Since then, eyes have been focused on 2020's No. 1 player Cade Cunningham to see if he would stick with Mike Boynton and the Cowboys or pursue other options.
The G League pathway was offering a significant amount of money, other programs were thirsty to try and swoop in to land the skilled point guard. From day one, Boynton acknowledged that Cunningham – whose brother Cannen Cunningham is an OSU assistant -- would have options and was open that he would support his potentially program-changing recruit in whatever he chose to do.
On Monday, Cunningham announced that he is sticking with the Cowboys. That decision will keep a top-10 class together and as the program appeals its penalties, there's still potential for a big season in Stillwater whether the NCAA Tournament is an option or not. Because, the Cowboys are going to be better and they are going to be a story regardless.
Cunningham really had no wrong decision to make here. Had he left, people would have understood. Had he chased money, people would have understood and if he stayed, he could be a legend for years to come with the OSU fanbase.
Having known Cunningham for years, I wasn't surprised to see him stick things out. He's a fighter, he is confident and he's backing up talk about how important relationships matter. Over the years I've seen some strong relationships built by coaches with players and the one between Boynton, Cunningham and his family is up there.
I'll never forget going to see Cunningham play for the first time. It was the day after Thanksgiving in 2016, Cunningham was a freshman at Arlington (Texas) Bowie. I'm there watching him deliver an incredibly impressive performance, scoring 36 in front of a mostly empty gym that featured maybe a few parents, some administrators and one college coach. It was Boynton -- who had flown through the night to get there from OSU's appearance in the Maui Invitational -- and he already knew everything there was to know about Cunningham, his game and his family.
Ultimately, that relationship is why it was no surprise to see Cunningham stick with Oklahoma State.
*****
2. TEXAS PICKS UP UNDER-THE-RADAR BIG MAN
On Monday, Texas caught the recruiting world off-guard when Shaka Smart and his staff accepted a commitment from three-star big man Keeyan Itejere from Raleigh (N.C.) Grace Christian.
A 6-foot-9 late-bloomer, Itejere hasn't yet had much national exposure and was somebody that we were looking forward to getting a strong in-person evaluation of while he played with his summer team, the Upward Stars. The coronavirus pandemic has prevented that, but it didn't stop Texas from rolling the dice on him. So the question is why?
First of all, Texas has had pretty good luck with late-bloomers. It's unreasonable to say every under the radar, thin and athletic big man will blossom like Jaxson Hayes did. But the athleticism, size and raw ability are similar. But it's not just Hayes that was a late-boomer for Texas. Current big Jericho Sims was a late-bloomer and it is in the process of developing another who came on late in Kai Jones.
From watching film of Itejere he is definitely raw. He's got to get stronger and he's got to develop his footwork in the post. But, man, he can really move. He is tremendously explosive and he looks to have promise as a shooter. He also looks highly reliant on good guards who can get him the ball, something that will be important moving forward in his development.
My initial reaction is that Itejere could be a guy that would benefit greatly from a redshirt year in Austin. He is a plus athlete on the Big 12 level, yet needs more strength and polish. But, I'm looking forward to seeing more of him and watching his progression over the next year. When it comes to a big man with his type of athleticism, the improvement can happen quickly.
*****
3. ANTHONY BLACK A DUAL-SPORT STAR ON THE RISE IN TEXAS
One of the top dual-sport stars in the class of 2022, 6-foot-6 guard Anthony Black from Coppell (Texas) High has great options on the basketball court and football field.
The son of former Baylor star Terry Black, Anthony holds football offers from Arkansas, Baylor, Cincinnati, Georgia Tech, Hawaii, Houston, Iowa State, Kansas and North Texas after racking up more than 900 yards and nine touchdowns as a wide receiver during his sophomore season. On the basketball side, North Texas and Old Dominion are his first two offers and he's heard from Arizona State, Baylor, Butler, Georgia, Georgia Tech, Loyola (Chicago), Temple, Tennessee, Texas and Texas Tech since coaches could start reaching out to 2022 prospects a week ago.
A member of the 3D Hoops Academy summer program, Black is a tall and rangy guard with skill and the ability to score or make plays for others. He's in the process of figuring out whether it will be football or basketball that ultimately offers him the best opportunity but all signs are that he's coming on quick in hoops and has a bright future if he chooses to focus on the hardwood.
"Anthony is one of the most complete all-round basketball players you'll find in the class of 2022," 3D director Shawn Ward told Rivals.com. "You find yourself asking what doesn't he do well? From his ball-handling skills, to his vision, and his ability to be the best defender and rebounder on the floor makes him incredibly valuable. Bottom line is this is a kid a college can win a national championship with."