Shaw's Takeaways: Rocky Top Tip-Off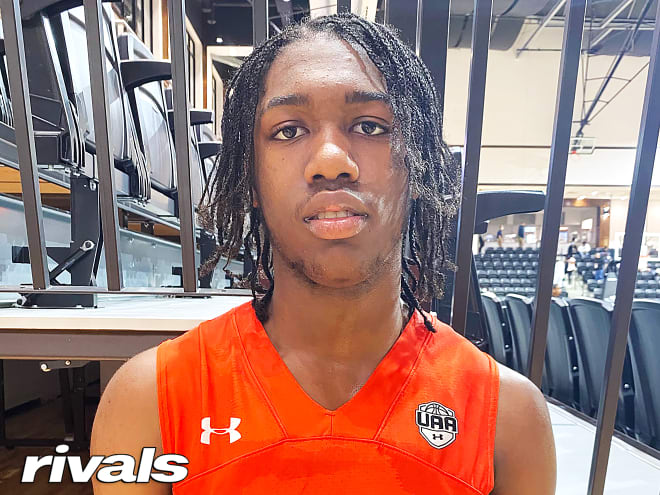 GATLINBURG, Tenn. – Rivals.com's Jamie Shaw was in Rocky Top as some top players, as well as some notable sleepers, took center stage at Big Shots Rocky Top Tip-Off. Here are some takeaways from Shaw.
BLUE CAIN LOOKING OUT WEST
Blue Cain averaged 19.7 points per game in leading his BMaze Elite UA 16u team to the Gold Division championship. Cain plays with pace and burst, while he is equally adept at finishing above the rim in traffic as he is knocking down a pull-up three off the bounce.
Less than a month ago Cain picked up an offer from Tennessee. This was a big one for the Knoxville (Tenn.) Knoxville Catholic guard, as it is his hometown program.
Cain, who already carried Power Five offers from South Carolina and Syracuse, grew up a Duke fan for specific reasons.
"I am named after Duke, Blue, you know the Blue Devils, I grew up watching them," Cain said.
Since the Tennessee offer, Cain's recruiting has opened a bit, with UCLA, Missouri and Virginia Tech staying in contact. However, as of today, Cain has a particular region he is looking toward attending college.
"I'm really looking out west, California. UCLA has been talking to me lately, I wouldn't mind going out that way," Cain said.
*****
BRANDON BROWN'S RECRUITMENT STARTING TO OPEN UP
Brandon Brown is a noted highlight waiting to happen. The bouncy and tough shooting guard led his Big Shots Tri-Cities team to the semifinals of the Big Shots Rocky Top event, after scoring 18-points in his first game and averaging over 15 for the event.
The 6-foot-2 Brown, out of Scott's Depot (W. Va.) Teay's Valley Christian has always been a noted highflier who plays with a toughness. After the film from his performance last weekend started to make circulation, Brown took calls from the likes of Georgia, Virginia Tech and Boston College. Brown has a visit set with Southern Illinois for the second week in June and a lot of eyes will be on him if he remains uncommitted in July.
*****
JAHSEEM FELTON, THE NEXT FELTON
Playing up an age group, 6-foot-3 freshman Jahseem Felton was the focal point of his BMaze 16u team. The point guard led his team to the Gold Division championship with a big 25-point outburst in a semifinals win.
Felton has been a known commodity within the basketball community for some time now. Not only for the weight his surname carries in the state of South Carolina, but also because he has been talked about among the nation's elite since middle school. Felton claims early offers from Kansas, Florida, Ole Miss, Tennessee, Georgetown, Wake Forest and South Alabama.
*****
PUT EVAN RAMSEY IN THE SIM CARD
Evan Ramsey averaged 13.8 points, 9.2 rebounds and 4.9 blocks per game this past high school season. Watching him play, it is easy to see why the likes of Virginia Tech, Texas A&M, Wichita State and Iowa have already been in contact. Still growing into his frame, there are the makings of a bright future ahead here.
*****
NOTES
... Jacksom Holt of Big Shots Elite NC picked up a Montana State offer last week. The sharpshooter knocked down 16 threes, in his three games, heading into the 17u championship game.
... Juanse Gorocito now claims offers from Washington State, Pacific, Southern Utah, American, San Diego State and Boise State.
... Russell Branch scored 15 points in the Carolina Shockers' first-round win. He currently claims offers from South Carolina State, Tennessee Tech, Prairie View A&M and East Tennessee State.