Rivals150 junior opens recruitment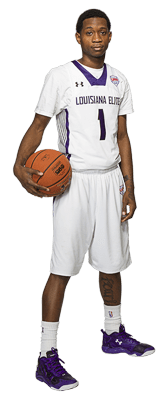 Rivals150 combo guard Cedric Russell has been committed to LSU for the better part of the last two years. However, the junior from Alexandria (La.) Peabody has decided to reopen his recruitment according to his godfather Derrick Kirk

Standing 6-foot-3, Russell is a fine athlete who can really stroke the ball from deep and averaged 24 points per game as a junior. Currently ranked No. 133 nationally in the class of 2017, Russell is sure to be a hot commodity when he hits the Under Armour Association circuit of events with Louisiana Elite this spring.

IN THE WORDS OF HIS GODFATHER
Kirk told Rivals.com that LSU is still under consideration, but it is important to explore all options.

"As you get closer to actually getting on campus, you want to look at what's a good basketball fit for you. Looking at that we decided that maybe we need to see some more options.
"He still loves LSU and he's still considering them, but he wants to be out there and seeing that all of his options are available.
"The recruiting process is a once and a lifetime thng. He wants to enjoy the process of being recruited. LSU was a very strong suitor in the beginning and we want to make sure that it is still the place that he wants to spend his next four years.
"This summer with Louisiana Elite he's going to play the wing but he's also going to have some time at the point. With his high school team he's going to transition to the point guard as well and at 6-foot-3 with the ability to score and make plays, his game probably is better suited to be a point versus a wing."
RIVALS' REACTION...
Russell is a smooth scorer who most college programs haven't spent much time watching because of his early commitment (September of 2014) to LSU.
Now that he's open, expect people to scramble for information. He's an SEC level prospect who can score in bunches and has the handle and vision to slide over and play some at the point. His games are likely to be crowded this spring.

WHAT'S NEXT?
Because Russell has been a committed player, he needs to see who is going to get involved.
Prior to his commitment to LSU, both UAB and Vanderbilt were active but both programs have new coaching staffs. Other programs that were involved included Houston, Louisiana Tech and Arizona State.
Look for Russell to play out the April live events to see who is interested before he sets a new list and starts to look into setting up visits.