Rivals Roundtable: Local recruiting; early-entry rules; 2020 classes
This weekend in the Rivals Roundtable, national analysts Eric Bossi, Corey Evans and Dan McDonald take a look at which programs could get a boost from the trend of players staying local in 2021. Also, how can the NCAA combat underclassmen leaving for the NBA Draft and which 2020 recruiting classes ranked outside the top 10 can provide instant help?
MORE: Teams who will improve next year thanks to newcomers
2020 Rankings: Rivals150 | Team | Position
2021 Rankings: Rivals150 | Position
2022 Rankings: Top 75
1. If the trend of staying locals continues for the 2021 class, which program will benefit the most?
Bossi: As both Corey and Dan have done a great job of illustrating in columns over the last week, players from 2021 are deciding early and they are staying home at a prolific rate. USC has certainly already seen this with three four-star commitments hailing from within an hour or so of campus.

But the team I've got my eye on is Michigan State. Tom Izzo and the Spartans usually do quite well in Michigan and they will again in 2021. They already have four-star wing Pierre Brooks committed and they are the team to beat for four-star combo guard Jaden Akins. Additionally, the Spartans will be right in the thick of it for another four-star from Michigan in guard Kobe Bufkin. Juwan Howard and Michigan will certainly give their two cents and won't make it easy, but I don't think either Akins or Bufkin is getting out of state and I give the Spartans the early upper hand thanks to Brooks being locked up.
Evans: Virginia. Trevor Keels, Benny Williams, Jordan Hawkins, Julian Reese and Quincy Allen are all out of the DMV. Efton Reid and Roosevelt Wheeler are from Richmond. There is a lot of talent within Virginia's reach. If this regionalized approach extends into the 2022 class, UVA could be on the prowl again with others like Dug McDaniel, Justin Taylor, Noah Batchelor, Tyler Nickel and Maliq Brown all a short drive from the Charlottesville campus.

McDonald: I'm going to stay right in my neck of the woods and go with Georgia Tech. The Yellow Jackets weren't going to be able to compete in the post-season this year anyways, but Josh Pastner's team finished the season really strong winning of six of their last seven games in the ACC and finally have some momentum.

The timing works out well for Georgia Tech with so many talented prospects in the metro Atlanta area coming up this year. Matthew Cleveland is one of the top perimeter prospects in the class and it just so happens both of his parents are Georgia Tech alums and his first offer came from the Yellow Jackets. Robbie Armbrester, Ryan Mutombo, and Kaleb Washington remain options as well. Jabari Smith, No. 5 overall in the class, is also a possibility for Georgia Tech as well, but his recruitment continues to move towards the highest level of the sport.
2. If you could change something about the early-entry rule for the NBA Draft, what would it be?
Bossi: It is pretty clear the NBA doesn't really care about the impact on players leaving college early or skipping it all together, so the NCAA needs to fight back. They should start allowing players who go either undrafted or are dissatisfied with where they got drafted to return to college. Of course, they will have to be in good academic standing and will have had to have followed guidelines on agent involvement, but I don't see a downside here.

True, it could lead to some roster management issues but the pros of having far more talent in the college ranks and keeping it interesting far outweigh any issues that would need to be ironed out.

Want to get more radical? Say it doesn't work out so well for one of these guys who goes the G League route. So long as they would have been academically eligible out of high school, welcome those guys back to the college game with open arms.
Evans: I would like to see a player have the ability to go to the NBA straight out of high school or be required to spend two years in college. It might not lower the entry numbers, but it would allow for the elite to not delay their NBA entry by spending six months on a college campus. For the others, it won't just be a year stopover but be an extended period that one can settle in at a place that can expect to build around the respective prospect for at least two seasons.

Maybe it doesn't answer all of the issues at hand, but it would open the pathway that the elite are hoping for and also answer some of the needs that the college game is attempting to solve.

McDonald: I'd love for college basketball to move towards the hockey model. Let prospects get drafted as soon as they turn 18 years old. If they get drafted, they have the option of still going to college with that team keeping their rights or they can go ahead and sign and start their professional career.

I'd love the idea of somebody like Jalen Green getting drafted by the Atlanta Hawks, but still being able to go play at a top college program until he's ready to turn pro. Obviously, this would require much more discussion and cooperation between the NCAA and NBA than there appears to be.
3. Which recruiting class outside the top 10 will provide the most instant impact next season?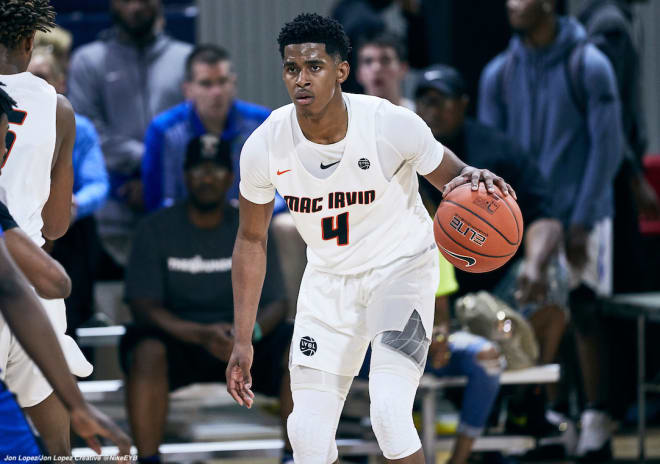 Bossi: I'll take UConn. I really feel the Huskies are poised for a break through In 2020-21 and the late addition and reclass of Adama Sanogo could be huge. He's big, he's strong and he's got game. Javonte Brown-Ferguson is another big who can help, but I see him as a little bit more of a developmental guy. The 'X' factor here is Andre Jackson. If they can get the super athletic 6-foot-7 wing to play consistently, then they'll be cooking with hot grease.

Evans: Illinois. Granted, Ayo Dosunmu could return and that would change things, and nothing against Trent Frazier or DaMonte Williams, but the backcourt of Adam Miller and Andre Curbelo is going to be one exciting group to follow in the coming years.

I am not sure either is one-and-done material but that won't keep either from impacting the Big Ten from the get-go. Miller is the next in line from Illinois to take the Illini program by storm and his shot-making, toughness and defensive value should not be understated. Curbelo has all of the intangibles and the make-up of a legendary guard in Champaign. He is going to be a fan favorite from the tip and if Kofi Cockburn returns, the Illini's ceiling for success is raised ten-fold. And don't forget Coleman Hawkins, who would be the perfect big-big complement to Cockburn. While it is not a top-10 class, by the end of the year, the Illini could be a top-10 team in the national polls.
McDonald: It's only two players, but I think Arizona State is going to get a big boost from Josh Christopher and Marcus Bagley. Those are two of the best scorers in the class and two prospects that are college-ready.