Q&A with five-star guard Skyy Clark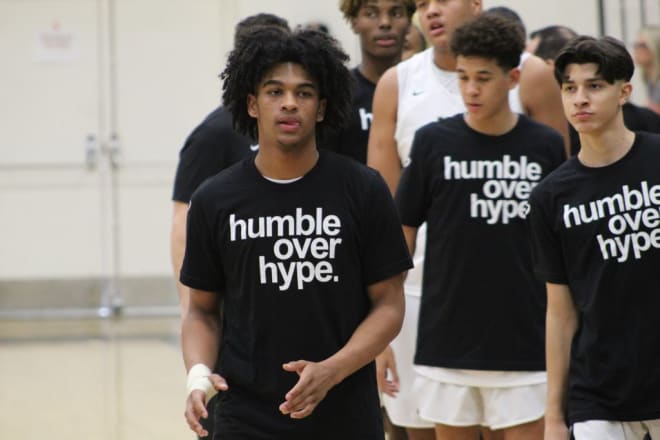 The race for the top point guard billing in the 2022 class is a heated one and it is a conversation that Skyy Clark is heavily entrenched within. The five-star playmaker recently made the move to Nashville after spending the past few years in Southern California with an eye towards ascending the national rankings.
Catching up with Clark, despite a relatively down time due to the ongoing pandemic, he has seen his recruitment skyrocket thanks to his pedigree and overall abilities. In our latest Q-and-A, he discusses his transition eastward, the variety of esteemed interest and offers he is receiving, a potential reclassification and his initial thoughts of the new G-League initiative.
Corey Evans (CE): First off, how has this move to Nashville been like for you?
Skyy Clark (SC): Oh yeah, I am loving it.
CE: What have you gotten out of it so far?
SC: It has been amazing. I have been with Coach Jamal (Richardson) and Coach Spencer down in Nashville and we just go at it, once, twice a day, and then I do strength and conditioning with Coach Scotty and football work with Coach Jay Holt.
CE: June 15 was a big day for you in general for first direct contact with the coaches so what was it like?
SC: It was amazing. I got hit up by a whole bunch of coaches that I didn't even think that I was going to get hit up by. It was a blessing.
CE: Who was the first one to call you? Do you remember?
SC: Florida State texted me first and TSU (Tennessee State) called me first.
CE: Was that at midnight?
SC: Yeah, I got a text from Stanford and Florida State, and then a call from TSU, and then that was it for the night, but when I woke up, that is when things got hectic.
CE: Which schools have been the most consistent with you?
SC: Kentucky, Gonzaga, Michigan, BYU, Florida State, Arizona, DePaul, and North Carolina.
CE: For you, making the move from the west coast, are you more intrigued by being around your family for college?
SC: My family said that they are going to go wherever I go so where I live, that doesn't really mean much.
CE: You visited Kentucky a while back and just received that offer; what did that mean for you?
SC: That was a huge thing for me. That is something that I have been dreaming about for a long time now since I started taking basketball seriously and it was just a great thing to see that my hard work is paying off.
CE: Carolina, as well, the past few years it has been point guards coming through and completing one-and-done seasons. What does that mean for you and getting that love from Roy Williams and those guys?
SC: That is a huge thing. Coach Roy is a legend. I was actually making a TikTok and he called me and I was about to let it ring but then I saw who it was and I picked it up and we talked for about 30-minutes and he ended up giving me a scholarship.
CE: What did that feel like getting that offer?
SC: It was huge. I started crying.
CE: Gonzaga, as a 2022 prospect, they have Jalen Suggs this year, Andrew Nembhard the following and you could follow; their brand has picked up immensely so are you feelings for that program?
SC: I love Gonzaga. Me and Coach (Brian) Michaelson, we text or call literally every single day, that is my guy. I love what they do with their point guards.
CE: You said Arizona, as well. They were on you whenever you were still on the west coast but what do you think about Sean (Miller) and those guys?
SC: They do a good job with point guards and all of their players, matter of fact. I know they have a good winning record and I just love what they do.
CE: Reclassification, you are still some time away from making that decision but what is going to be important for you in making the leap?
SC: I would just say how the season starts off and with how things are looking with the coronavirus and how my development is coming along.
CE: Let's say that the G-League reaches out to you; what are your initial thoughts about that particular path?
SC: It is a great route for players and if they hit me up, I would definitely listen and see what they have to offer.