Ontario's Justin Jackson faces decision regarding UNLV future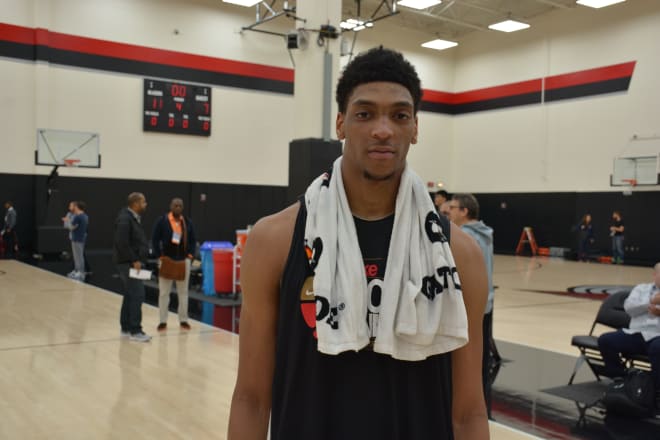 PORTLAND, Ore. – Though he's playing for the World Team at the 2016 Nike Hoops Summit, senior four-star forward Justin Jackson is no stranger to the recruiting world. He has been committed to UNLV for a while and now he has a decision to make about whether or not to ask for release from his scholarship because of the coaching change from Dave Rice to Chris Beard.
A 6-foot-7, 230-pound senior at the Hill Academy in Ontario, Jackson was a regular on the grassroots circuit and also attended Henderson (Nev.) Findlay Prep.
While at Findlay, Jackson developed a great relationship with Rice and his staff. Capable of playing inside and out, his ability to play as either a big three or a mismatch four-man made him a natural fit for the Rebels' style.
This week, Jackson says he's doing his best to focus on playing and then he'll get together with his family to discuss his next move.
"There's no set date or rush," said Jackson. "As soon as I get back I'm probably going to relax for a couple of days. Then I'm going to sit down and talk with my family about what I want to do."
Only a week or so into his duties at UNLV, Beard has made sure that Jackson knows that he would love to build a relationship with him. Jackson is open-minded to the process and respects how Beard has approached him.
"We had a quick convo right before I came out here," he said. "He just explained to me that he wants to have the chance to sit down and reason with me, and show me where he wants to take this program. I respect that he is willing to give me my space for this week so I can be here with a focused mindset."
After a few years in the United States, Jackson was happy to have played his final year of high school closer to home in Canada. Especially because he knows that he has to leave home again.
"It went really well. It was a chance to keep myself isolated," said Jackson. "I was far away from the States and the hype, and really got the chance to improve my game.
"I also know that once I go off to school things are going to get crazy. Being able to be near my family, my little sister, it means a lot."
For now, Jackson remains committed to UNLV. If he ultimately does decide to ask for a release, though, he will be a hot commodity.
"I can do a lot," he said. "I can dribble, I can defend the perimeter and I can be a mismatch on the inside."