New Zealands Freeman gains steam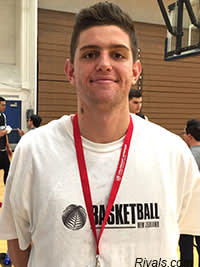 A 6-foot-9 four-man, Freeman is currently in the middle of his senior season at the Westlake Boys School. Mobile and skilled, he can stretch defenses with his shooting and do a number of things on the floor to help out a team.
"For me my game has a lot of shooting outside," Freeman said. "I like to stretch the floor and run the floor as a big man. I drive inside quite a bit. I'm a stretch four."
"The majority of the schools are coming to see me play in July," Freeman said. "I'm going to come over and play in adidas Nations but before that I'm going to play in adidas Uprising in July and that's where they are going to see me play."
Freeman has been to the United States and he is planning on making another return once his high school year in New Zealand finishes near the end of 2015.
"I've been over here quite a bit," Freeman said. "In terms of basketball it's a bit more intense over here. So getting over here as much as I can and adjusting to it is good for me. I'm looking at going to a prep school before college to get some games in."
Because he will be a high school graduate and a full academic qualifier when he completes his academic year back home, there is the chance that a college program could convince Freeman to join in time to play during the second semester of the 2015-16 college season. Though he won't rule out that possibility, he seems pretty set on being a part of the class of 2016.
"I'm weighing up all of the options," Freeman said. "There are so many different choices of what you can do. It's just sort of weighing out what's best for me at the time. But at the moment going over sort of mid-January to a prep school so I can get as many games under my belt as possible is looking like a good option for me."