NBA Draft: Six freshmen that could use another college season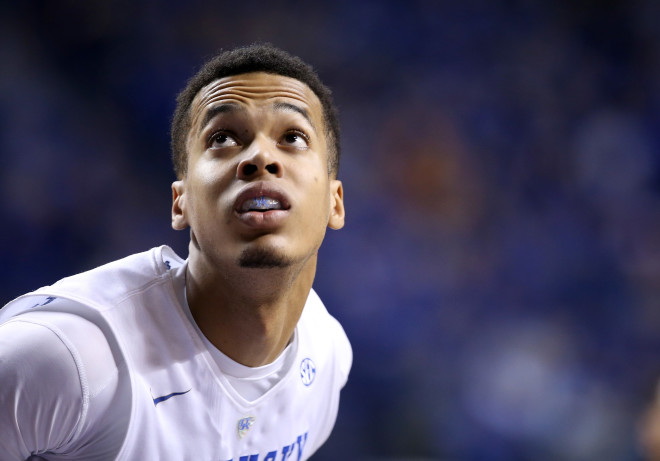 The deadline for early entry for 2016 NBA Draft has come and gone. Underclassmen who haven't hired an agent still have until May 25 to pull their name out of the draft. Today, we take a look at six freshmen -- including 2015's top ranked player Skal Labissiere who will stay in the draft because he's hired an agent -- that could or could have greatly improved their stock by coming back for another year.


Freshman stats at Kansas: 3.0 points, 2.5 rebounds and 0.9 blocks per game.
How a second year could help: The NCAA is partly to blame for Diallo having a rough freshman year because of all the time he sat while they put him through the academic ringer. However, myself and most of the recruiting industry also underestimated how much his lack of skill and polish would hamper him. He's certainly an NBA athlete and has a great motor and that may be enough to get him drafted by the end of the first round. But, one -- really two -- more years at Kansas to prepare for the NBA would likely add years to the end of his career.
Freshman stats at Oregon: 13.4 points, 4.3 rebounds and 2.0 assists per game.
How a second year could help: Should Dorsey decide to remain in the draft, he's got a chance to get drafted somewhere in the second round. He's a big guard who can play on or off the ball and he's got a certain toughness about him with the ball. By NBA standards, though, Dorsey is relatively average athletically and not the biggest guard. Another year to develop as a floor general and being efficient would do wonders.
Freshman stats at UNLV: 11.5 points, 4.5 rebounds per game, 1.3 blocks per game.
How a second year could have helped: Jones is an NBA level athlete with decent size and long arms. Outside of that, his decision to hire an agent and eliminate a chance to return to college is puzzling. He's not shown much range on his jumper and his ball-handling is below average for a wing. He reminds me of 2008 five-star DeQuan Jones who was able to catch on for a season in the NBA as an athlete. However, Jones spent four full years at Miami. I can appreciate that the situation at UNLV hasn't been ideal with all of the player and coaching turnover, but even transferring and sitting out a year while improving his skill might be better if his immediate goal is the NBA vs. just playing professionally whether it be overseas or in the NBA D-League.
Freshman stats at Kentucky: 6.6 points, 3.1 rebounds and 1.6 blocks per game.
How a second year could have helped: Having hired an agent, Labissiere obviously won't be coming back and many of the expectations put on him as a freshman weren't his fault. Looking back, I overlooked a hot and cold motor and lack of strength because of his high skill level. Many times at Kentucky, he was being asked to play a game that was out of his comfort zone, but it didn't look like he gave it his best effort, either. Chances are somebody will take a flyer on him on him in the latter part of the lottery and I remain convinced he can have a long career in the NBA. I just can't help but feel another year of college would better prepare him for life on and off the court in the league.
Freshman stats at Washington: 16.1 points, 6.0 rebounds and 4.4 assists per game
How a second year could have helped: Anybody who follows me on Twitter knows that Murray was one of my favorite players in all of college basketball during 2015-16. I was borderline obsessive with my tweets about him. That being said, I don't think he's ready for the NBA just yet. He'll get drafted -- anywhere from the end of the first to mid-second round most likely -- and he's locked in because he's signed with an agent. But, a year of cleaning up his poor outside shooting, getting stronger and cutting down on his turnovers could have put him in the discussion to be a lottery pick in 2017.
Freshman stats at Rutgers: 15.9 points, 3.3 rebounds and 4.3 assists per game.
How a second year could help: Sanders is a high-risk, high-reward point guard with legitimate high-end NBA athleticism who is among the most exciting players in the college game. However, the NBA surely has questions about him off the floor after he bounced around multiple high schools and was suspended during his freshman season at Rutgers. Signs are pointing to him returning to Rutgers for his sophomore season and if he can have a stable, trouble-free, year while continuing to put up big numbers in highlight fashion, it will do wonders for his NBA stock.