Mr. Wendell: Carter impressive at Atlanta EYBL
SUWANEE, Ga. -- Saturday marked the start of the final session of the Nike EYBL, and the action didn't disappoint. The morning session of games featured a standout performance from five-star big man Wendell Carter.

CARTER DOMINATES IN HIGH STAKES BIG MAN BATTLE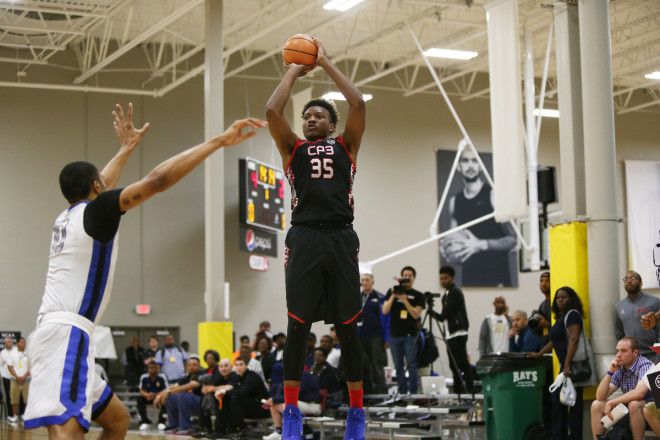 Earlier this spring, Wendell Carter dropped from No. 1 overall to No. 4 in the 2017 Rivals150. On Saturday morning, he made a pretty strong statement about potentially taking back that top spot at the next rankings update.
In a close win over California Supreme in a contest that was as competitive as any travel game you will see, Carter out-shined five-star centers Deandre Ayton (No. 1 overall) and Brandon McCoy (No. 9 overall). He did it on both ends of the court, too. In one particular stretch, he blocked back-to-back shots at the defensive end, sprinted down the court and finished off a pass from Blake Harris with a highlight reel dunk.
In the past, one of the few holes people could poke in Carter's game was his athleticism. While he still isn't and likely never will be considered an elite athlete, he's definitely improved in that area and it's elevated his game to another level. He played about as well as any big man will play during this travel season, finishing with 30 points, 16 rebounds and 3 blocks.
California, Duke, Georgia, Georgia Tech, Harvard, Kentucky and North Carolina are among the schools involved with the five-star prospect right now. Harvard is slated to get an official visit.
THOMAS TALKING TO DUKE
Lance Thomas, despite playing at a powerhouse high school program in Georgia, is still relatively under the radar with his recruitment. That's beginning to change of late and will continue to do so if the 2017 Rivals150 forward keeps playing like he has been recently.

At 6-foot-9 with a lanky frame, Thomas possesses a unique skill-set. He's a very confident and capable shooter from three-point range and is comfortable handling the ball against pressure. On the defensive end, he gets off the floor really quickly and uses his length to be a legitimate rim protector. In today's game, it's equally important for a forward to be comfortable sliding his feet on pick and roll coverage, and Thomas excels in that area as well.
USC, Miami, Florida, Tennessee, Clemson and Georgia Tech's new staff have been involved with the Rivals150 forward of late. He also recently began hearing from one of the blue bloods in college hoops.
"Nate James from Duke, he contacted me last week," Thomas said. "He just said he wants me to continue to be more productive and they are going to be watching me this summer."
MORE SATURDAY NOTES FROM THE EYBL
Wendell Carter stole the show in the CP3/California Supreme game, but Deandre Ayton and Brandon McCoy also had their moments to shine. Ayton showed off some versatility and the ability to hit jump shots from the mid-range. McCoy plays close to the basket, and does so at a high level. Between the three five-star prospects, there may have been three lottery picks on the court in that matchup.
Blake Harris dished out six assists in the win over California Supreme, including arguably the best pass anybody will see this travel season. Harris threw a two-handed bounce pass through traffic from about half-court to Carter that Carter finished with an emphatic slam.
Cassius Stanley of California Supreme showed why he is one of many from the promising looking class of 2019 who will receive serious five-star consideration. The 6-foot-5 is an explosive athlete who is fearless attacking the rim. He had a highlight reel dunk of his own when he punched one in over Carter.
Ikey Obiagu has established himself as an elite shot-blocker over the past year, but members of King James didn't get the memo. They kept testing him at the rim in the first half, but were rejected 10 times.
Diante Wood, a 6-foot-5 wing from the Georgia Stars 16-under and Sacred Heart out of Alabama, holds offers from Alabama, Auburn, UAB, Samford and New Mexico State. He's a versatile, athletic wing that shined in a win over Portland Basketball Club.