{{ timeAgo('2020-03-13 09:09:32 -0500') }}
basketball
Edit
McDonald's Nuggets: Impact of coronavirus; Jabari Smith; more
WHAT'S ON MY MIND: So many questions as to how COVID-19 impacts college hoops
The immediate impact of the coronavirus is obviously the shutting down of all conference tournaments and the NCAA Tournament. But beyond this week, what other ways will COVID-19 impact college hoops?
Let's start off with the coaching carousel. There have yet to be any high-major head coaching changes, but you can bet they will be coming. With conference tournaments being canceled this week, there are coaches on the hot seat who will not have the chance to make a run this week and earn a spot in the NCAA Tournament. Texas coach Shaka Smart comes to mind as one who could have used a big week.
The National Association of Basketball Coaches (NABC) already canceled the convention it holds at the Final Four. That's where a lot of moving and shaking generally takes place among athletic directors looking to hire a head coach and head coaches looking to hire staff members. Not that those activities can't happen over the phone, via Skype or still in an in-person setting, but it does complicate the process. Could a coach survive who otherwise wouldn't have because his athletic director decides it isn't the right time and climate to make a change? It is certainly possible.
If you're reading this column, chances are you probably follow recruiting closely. This is where it could get really interesting. Schools have already started taking coaches off the road and suspending all visits to campus by prospects. For a senior looking to make a college decision in the next couple months, the process gets tricky now. For coaches looking to fill out a roster for next season, figuring out which prospects you want to target and recruiting them becomes much more complicated.
There are two live period weekends at the end of April for college coaches to go out and evaluate prospects with their travel teams. There has already been chatter that those weekends might not take place as currently planned. It's not the end of the world, because class of 2021 prospects and younger players will still have the June and July weekends to play in front of coaches, but a lot of unsigned seniors will play on travel teams in April looking for an opportunity.
It's an unfortunate situation all around and no industry is immune from being touched by this.
RECRUITING NOTE: Why aren't bluebloods involved with Jabari Smith?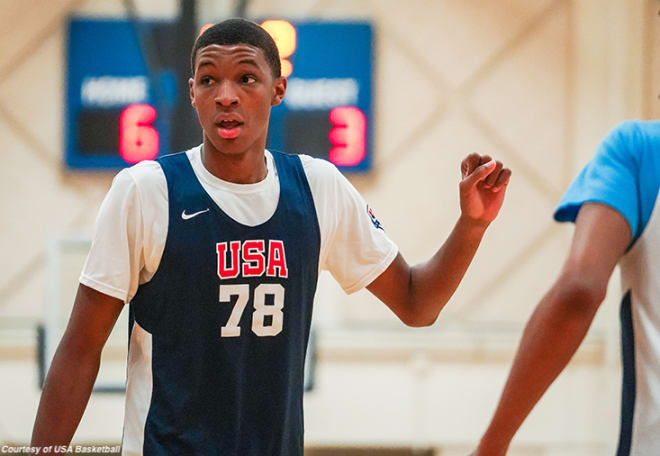 I spoke with Jabari Smith, whom we currently have as the No. 5 prospect in the 2021 class, earlier this week. The intent of the conversation was to get an update on his visits to programs he's visited recently like Auburn, Georgia, Georgia Tech and Tennessee (official visit). Those four schools all seem to be in a good spot with him for various reasons, as does LSU, his father's alma mater.
What surprised me is he mentioned he's yet to receive any attention from any of the blueblood programs around the county. We're talking about a 6-foot-9, highly skilled forward with high character and no academic concerns out of a heavily recruited area (metro Atlanta). It's really surprising to me, to say the least.
North Carolina had an assistant on hand to watch him battle Tar Heels signee Walker Kessler last month in a game where both were really impressive, but he still hasn't heard from them, either. This could all change very quickly, but given the great junior season he had and what he accomplished with USA Basketball last year, I'm scratching my head a bit on this one.
COMMIT OF THE WEEK: Manny Obaseki to Texas A&M
Fresh off winning SEC Coach of the Year, Buzz Williams went to work on the recruiting trail and secured his biggest commitment yet at Texas A&M with five-star guard Manny Obaseki choosing the Aggies. Obaseki is the first five-star pledge for Texas A&M since Deandre Jordan in the class of 2007.
Obaseki joins Jaxson Robinson to give the Aggies an early lead on everyone with the No. 1 class in 2021. That's a terrific start to building an elite SEC backcourt. Obaseki is a really talented playmaker at 6-foot-4 and an improved shot-maker from deep in the past year. Putting a shooter like Robinson around him will only help both of them flourish under Williams and his staff.
Arkansas, Baylor, Oklahoma, Texas and Texas Tech had been involved prior to Obaseki's commitment.
*****
TEAM OF THE WEEK: Florida State
On Saturday, the Seminoles took care of business with an 80-62 victory over Boston College to clinch the ACC regular season title, which helped Leonard Hamilton earn ACC Coach of the Year honors. On Thursday, with the threat of the coronavirus putting an end to the ACC Tournament as Florida State was warming up to play Clemson, the Seminoles received the ACC Tournament Champions trophy in a very awkward on-court ceremony.

It was a terrific season in Tallahassee and it is a shame - though not anybody's fault - that we won't see if this is the year Florida State and Hamilton were able to break through with a Final Four run and maybe even a national championship just a few hours away in Atlanta.
*****
GAMBLING PICKS
In what turned out to be the final gambling picks of the season last Friday, we took VMI (-4), Wofford (-14), Georgia Tech (+4), and NC State (-7.5) vs. Wake Forest (under 151.5). That was a perfect night and the 5-0 record got us up to 32-23. Hope you went along with the picks!