McD's AA: Josh Jackson leads week's top performers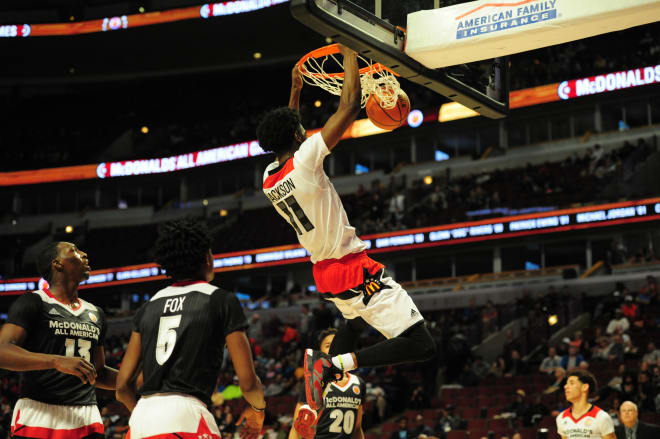 CHICAGO -- After three rounds of practice, a scrimmage and Wednesday night's game in the United Center, the 2016 McDonald's All-American Game festivities have come to an end. Five-star wing Josh Jackson showed all week why he's the No. 1 player in the 2016 Rivals150, but who rounded out our top 10 performers based on game week performance?
RELATED: Jacksons take home co-MVP awards

Performance: A co-MVP of Wednesday's game, Jackson enjoyed a sensational week. He played with tremendous effort on both ends of the floor, set up teammates for scores and when it was time to go and get a bucket, he did it. He's electric in the open court and what's scary is that he still has a huge ceiling for growth.
Recruiting update: Final three of Arizona, Kansas and Michigan State
Pro comparison: Scottie Pippen
Performance: Ball doesn't do a lot of talking, but the 6-foot-5 floor general's game does more than enough talking. He missed his three shots during the game, but he shot the ball well during workouts and scrimmage action. His value, though, is in his ridiculous passing ability. Based on his body of work, he's going to get serious consideration for a move into the top three of the Rivals150.
Pro comparison: Jason Kidd
Performance: Adebayo won't overwhelm you with skill, but he's not solely reliant on bully ball, either. He showed tremendous feel for dissecting where loose balls would end up and his motor is tough to question. A few of the high motor/not overly skilled stars of the past few classes have had some struggles making the jump to college level but Adebayo's feel should help him.
Pro comparison: Derrick Favors.
Performance: Tatum didn't have a great week shooting the ball and there were times that he forced the issue a bit too much. That said, there's no denying his size for the wing, advanced skill level and that he wants to compete when he's on the floor.
Pro comparison: Carmelo Anthony
Performance: The undecided big man played well around the rim all week. At times, he didn't finish quite as well as he usually does, but it was the great hands, terrific footwork and willingness to score with either hand that impressed. So many young bigs have to be in one exact spot to have success, Bolden appears comfortable on either block, which is huge for him moving forward.
Recruiting update: Top two of Duke and Kentucky.
Pro comparison: Robin Lopez
Performance: A co-MVP of the game with Josh Jackson, Frank Jackson also won the dunk contest during game festivities. He was dangerous in pick-and-roll action all week and his pull-up jumper, when combined with explosive athleticism, is tough to deal with. He is more scorer than pure shooter from deep, but when he gets hot from three like he did during the game, he quickly racks up points.
Pro comparison: Jerryd Bayless
Performance: A bit of a debate is going to rage about whether he is better suited to the point or shooting guard position long term. There won't be any debate about how hugely important he'll be as a freshman in Seattle next year. Long armed and smooth off the dribble, Fultz got into the lane when he wanted and kept defenders honest with his jump shooting.
Pro comparison: D'Angelo Russell
Performance: Monk didn't bury any deep jumpers during the game, but he shot pretty well during the week. What was most important was that he played to his explosive first step, attacked the rim and made plays off the dribble. During the high school season, he sometimes settled for jumpers and the attacking version of him is so much better.
Pro comparison: Steve Francis
Performance: The slender big man from Texas gave up strength at times but turned the tables with his ability to run the floor. He showed glimpses of skill facing from 12-15 feet, but it was the way he ran the floor and overall energy that allowed him to stand out.
Recruiting update: Houston and Texas look to be leading Notre Dame, Kansas and Kentucky.
Pro comparison: Ed Davis
Performance: There had been some social media debate about whether or not Collins was a reach for the McDonald's Game. He proved he belonged all week. He showed some edge fighting for rebounds, played good positional defense, rebounded well and showed that he can make face-up jumpers in pick-and-pop situations. He's made a strong case for an elevation to five-star status.
Pro comparison: Nikola Vucevic