Kentucky backcourt shines at Jordan Brand Classic
BROOKLYN, N.Y. – It was a full day of basketball at the Barclay's Center with three games at Jordan Brand Classic. Things tipped off in the early afternoon with the 15- and 16-year-old international game. We were able to see some young talent from overseas, as Charles Bassey and R.J. Barett from the 2019 class stood out.
Next up was the regional game where New York native Taurean Thompson took home the MVP honor with 27 points.
To close out the evening, the national teams put on a high-flying show with lots of dunks, playing for a full house including Carmelo Anthony, Darrelle Revis, Victor Cruz, and members of Villanova national championship squad.
JACKSON, GILBERT LEAVE WITH INJURIES
Early into the game, five-star Duke commit Frank Jackson went down hard driving the lane and left the game with a concussion. Just a few minutes later, four-star point guard and Connecticut commit Alterique Gilbert was carted off the court with a shoulder injury. No immediate medical update was released.
FOX, MONK DOMINATE JORDAN BRAND CLASSIC GAME
Kentucky had a great night with two of its future players winning the co-MVP awards. From the East team, five-star point guard De'Aaron Fox finished with a game-high 23 points (8-of-16 shooting). While some of his outside shots weren't falling, his explosive first step helped him get to the rim.
For the West, five-star shooting guard Malik Monk had a similar game. He finished with 22 points (10-of-19 shooting), even though he struggled from behind the arc going 2-of-10 from three-point range.
BOLDEN UPDATES RECRUITMENT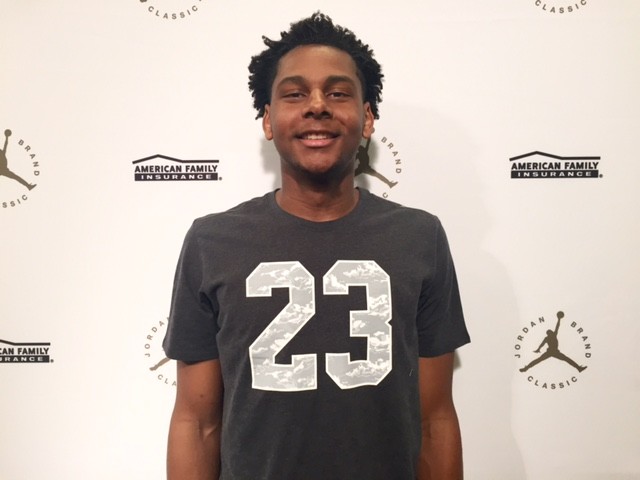 Marques Bolden only finished with eight points but he was very active on defense. The West team was guard-heavy and a lot of the shots were taken from the perimeter. It's still obvious that he will be a force at the next level and he has Duke and Kentucky fans drooling over the chance of adding him to the talent-heavy recruiting classes.
The 6-10 center recognizes that he'll have to fight for his position and playing time at both Duke and Kentucky but doesn't mind the challenge. Kentucky has five-star power forward Bam Adebayo while Duke has 5-star center Harry Giles coming off an injury.
"I feel like having the competition within the team will just make us better," he said. "I love competing in practice. They're both great guys on and off the court so I just feel like I can connect with them."
Bolden said he thought about announcing at the game but decided at the last minute to wait.
"I just really want to make sure I have the best relationship with the coaching staff and it's the right fit for me," he said.
Ideally he would now announce on his 18th birthday on Sunday at his high school in Desoto, Texas, but Bolden doesn't know if he can get everything worked out in time. If it doesn't happen by Sunday, expect an announcement sometime this week.
BASSEY, BARRETT LOOKING GOOD IN 2019
A 6-10 freshman from Nigeria who attends high school in San Antonio, Charles Bassey, dominated the post, finishing with a double-double (14 points and 12 rebounds). Bassey was grabbing everything off the glass on both ends of the court and most of his points came from putbacks after a miss. He's an aggressive player that establishes position on the block early but needs to work on his feet once he gets the ball down low.
"I'm not worrying about schools right now," he said. "Maybe I have offers, maybe I don't. I just want to work on my game and get stronger."

Bassey did say that his favorite teams to watch this year were Texas A&M and Oklahoma.
The other freshman that made a statement was Canadian small forward R.J. Barrett who attends Montverde (Fla.) Academy. Even though his team lost, he was co-MVP, finishing with 22 points. Barrett is a great wing player that knows how to draw the contact in the lane to get the and-one call. Though he knocked down a couple jumpers, he said his outside shot is something he's been trying to improve.

"This summer I'm going to work on my jump shot and my ball handling," he said. "I want to try to limit my turnovers in transition."
Being from Canada, Barrett can't escape the Andrew Wiggins comparisons.
"I talk to him about it and the whole [recruiting] process," he said. "He just tells me to keep working and there's always going to be someone trying to drag me down. I just need my game to speak for itself."
Barrett did not list any schools that are talking to him or any particular schools he's showing interest in at this time.
One of the top undecided players in the 2016 class is four-star power forward Taurean Thompson. He confirmed he's visiting Connecticut on Monday and has recently been talking to the Georgetown, Syracuse, Seton Hall, Providence and most recently, Xavier.
"I've talked to (Xavier assistant) Coach (Luke) Murray for a little bit in the past couple days," he said. "So yes, they're in the talk. I've been to all of them, but the only officials have been Syracuse and Xavier, but I've seen them all."
Thompson doesn't have a timeline yet for when he'll make a decision.
VITAL UPDATE
Christian Vital is down to Connecticut, Louisville and Iowa.
The three-star shooting guard opened things back up after decommitting from UNLV. Vital recognizes there could still be NCAA sanctions passed down with Louisville but he's focused on what coach Rick Pitino has done with past teams and winning championships.
"Coach Pitino is a great coach," he said. "They've won three national championships and as a player that's the ultimate goal. I want to compete for a national championship."