{{ timeAgo('2020-07-29 13:07:01 -0500') }}
basketball
Edit
Jordan Frazier one to watch in 2022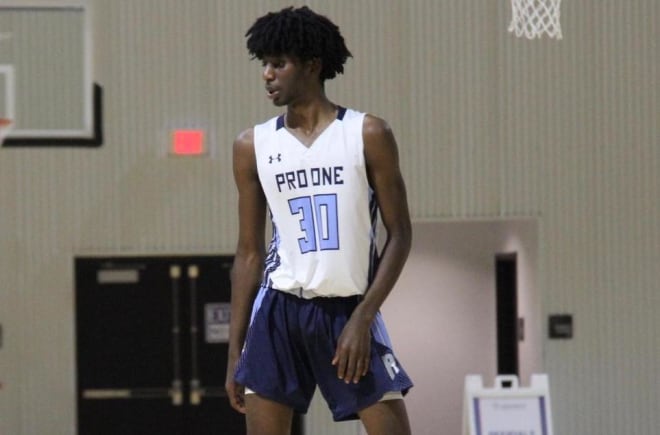 The live-stream recruiting process this summer has been really beneficial for some prospects. One of those prospects who has seen his recruitment change in a big way is Jordan Frazier, a 6-foot-4 shooting guard in the 2022 class out of Alabama.
Prior to July, Frazier was a very lightly recruited prospect. Following the LakePoint Live Showcase in Georgia, he started to generate a ton of interest after putting up big numbers all weekend.
"Jordan is a long, athletic guard with an 'A' level stroke," Pro One director Danny Servick said. "He has unlimited range, but also possesses the ability to score off the bounce in the midrange or at the rim. Tremendous upside."
Georgia became the first school to offer a scholarship after watching him at the On The Radar Hoops Super Six this weekend. Auburn and Virginia Tech have also shown interest.
IN HIS OWN WORDS
Auburn: "[Wes Flanigan] said he likes the way I play and I have a lot of potential. He's going to call my coach and my dad and watch me this weekend in Birmingham and see from there."

Georgia: "They watched me at the LakePoint Live Showcase and that's when they started texting me. They watched me again on Saturday and that's when they offered. I know that Coach [Tom] Crean is a really good coach and a very tough coach. They just said they love how I play."
Virginia Tech: "They hit me up on Twitter and then they called me. They said they like how I play and are going to keep watching."
RIVALS' REACTION
Look for Frazier to continue to rise over the next year as he starts to get seen by more coaches. His size in the backcourt, his athleticism, and ability to score at all three levels should make him a hot commodity in the ACC and SEC very soon. He's regularly scoring over 20 points in games this summer with Pro One. Georgia was the first high-major offer, but likely won't be the last.