Hoops Summit: McDowell-White next Aussie in line?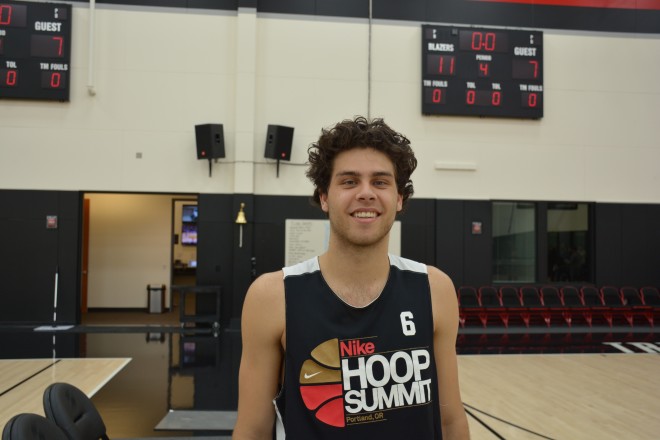 PORTLAND, Ore. -- At the Hoop Summit, not every player on the World Team has designs on playing college basketball. However, four-star point guard William McDowell-White does, and he's hoping to continue the steady influx of Australian talent into college basketball.
Standing a well put together 6-foot-4, the Brisbane (Australia) native is a physical presence on the floor and a big-time passer of the basketball.
"I feel like I could play the two if needed but I've played almost exclusively at the point for the last couple of years," McDowell-White told Rivals. "I have heart and a willingness to give up a good shot for myself for a great shot for somebody else."
According to McDowell-White, there is a growing sense among Australian ballers to want to prove themselves in the States. Despite all of Ben Simmons' individual success at LSU as a freshman, he cited a different Aussie player as being responsible for the lure of playing in America.

"There's been an influx of Australians and I think Patty Mills really started it," said McDowell-White. "When he made the NBA it was an example to us that we can make it and it was great to have a favorite player to look up to so he started it.
"Most of us want to prove something. We haven't had much attention and we want to come over and prove that we are just as good and I think that's why most of us are coming over."
Have loved the feel Australian PG William McDowell-White has shown as a passer/facilitator. #HoopSummit

— Eric Bossi (@ebosshoops) April 8, 2016
So far, McDowell-White has seen the campuses of Texas A&M, Arizona State and Fresno State -- where his older brother Darryl is committed to play.
"I was actually pretty nervous for Texas A&M because it was the first visit," said McDowell-White. "It was really good and I felt really comfortable around coach Kennedy and the staff. It could be a good school as far as exposure."
Next on his trip docket was a visit to Tempe to see the Sun Devils.
"That was really good. Bobby Hurley is the coach and he could be a good influence on me going forward in my career. They have a great bunch of guys with a good sense of humor."
Last up was Fresno State.
"My brother is committed there and they are really close with the family so it's comfortable and we trust them. It was good. All of the visits are good."
McDowell-White has also been hearing from Indiana and Michigan State and said that he would like to make another visit or two before making a decision. But the clock is ticking.
"I think it might be good to take a few more visits to see what other programs offer," said McDowell-White. "But, I'd like to have a decision pretty soon because I want to be done with it."