Hoops is in Antetokounmpo's DNA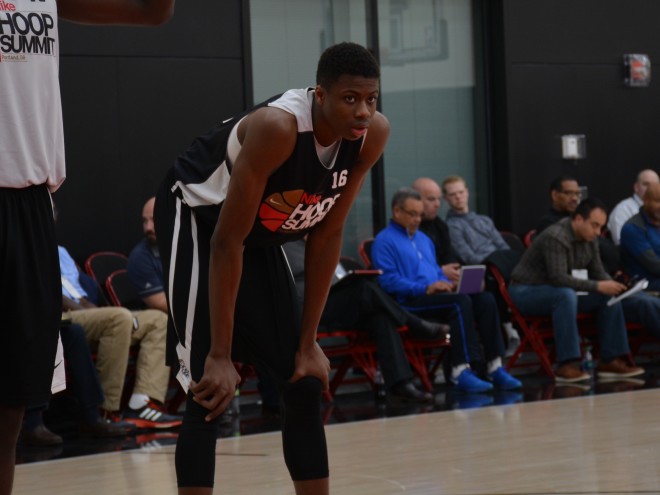 PORTLAND, Ore. -- Basketball flows in the DNA of all three Antetokounmpo brothers. Oldest brother Thanasis saw time with the New York Knicks this season while middle brother Giannis of the Milwaukee Bucks is one of the NBA's budding stars. The youngest of the trio, high school senior Kostas Antetokounmpo, feels that he has no choice but to follow in his older brother's footsteps.
A senior at Whitefish Bay (Wisc.) Dominican who is currently an unranked three-star prospect -- which will change during the class of 2016's final rankings -- the near 6-foot-10 Antetokounmpo has been one of the biggest eye-openers for the World Team at the Nike Hoop Summit practices.
He is a big-time athlete, has all the length in the world and his game is quickly catching up to his physical attributes. During practices he's hit impressive floaters off the dribble, guarded multiple positions and the potential seems to be dripping off of him.
"I think I can become better with my handles and my shooting," Antetokounmpo said. "My strength is running up and down the court and being able to attack the rim off the dribble. I think I can play multiple positions. Eventually I think I can play like the one through the four like (Giannis), so some sort of combo."
Living with Giannis in Milwaukee, Kostas doesn't get to work out with his older brother as much as he wants. But he's certainly been able to learn through observing.
"The thing I pick up from him and the pros is being aggressive," said Antetokounmpo. "He's out there being aggressive and making plays and I see that."
In the short term, Antetokounmpo is hoping for a big showing at the Hoop Summit and then he's going to lock into making a college decision. He doesn't have a decision date yet but mentioned St. John's, Purdue, Florida, Louisville and Iowa State as schools he is considering with two that stand out as places he will for sure visit before deciding.
"I'm going to take visits to St. John's and Florida," said Antetokounmpo. "Those are the two, I don't have dates set yet but those are the first two visits.
"I want to go to a school that needs me and trusts me as a player. I always want to know that they are going to be there for both me and my family."
With a college decision coming up in the short term, Antetokounmpo can't help but dream about the bigger picture. The desire to be the best and to make it in what has become the family business of the NBA is something he can't stop dreaming about.
"It kind of puts pressure on me but it's good pressure," said Antetokounmpo. It motivates me to become better.
"We've dreamed about it forever. Ever since we were little our mentality has been like if you do something you have to be the best. If you play soccer you have to be the best. If you run track you have to be the best. So playing basketball, I want to be the best. I want to be in the NBA."