Holiday Hoopsgiving: Top Takeaways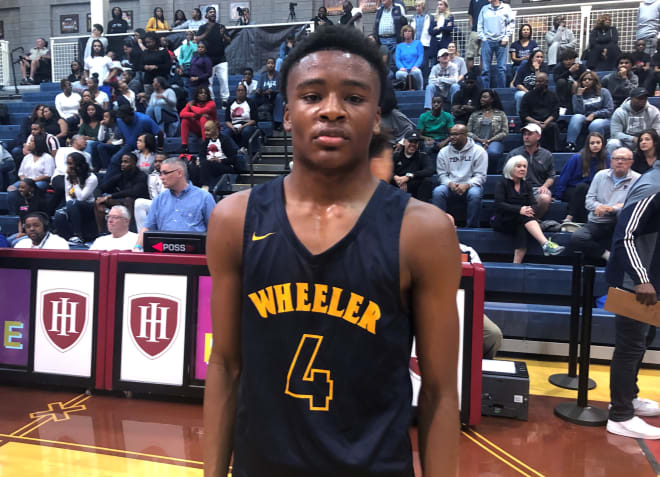 ATLANTA — The Holiday Hoopsgiving delivered again. Setting the bar for what a premier high school event looks like, some of the very best from the southeast took to the floor on Friday and Saturday and made sure to leave a positive impression. There was plenty to take away from our two days spent in Atlanta, including the progressions shown from Jabari Smith, a special duo of freshmen talent and a handful of others headed to the Buckeye State for their college careers.

MORE: KU, UNC, UK should be pleased at Thanksgiving Hoopfest

Isaiah Collier could be special. He wasn't at his best, but the raw talent and physical looks test is passed quickly by the freshman guard. The next man up out of the mighty Wheeler High program, Collier is mature beyond his years at the point of attack. Nothing is too big for him and his ability to pick the time and place to score and pass should not go unnoticed.

Already, Florida, Ole Miss and Tulane have offered and if all goes right, Collier should have the chance to pick any school and they'd gladly accept. Mark the name down...Isaiah Collier will be a well talked about one nationally from this day forward.
Ryan Mutombo will make a name for himself. The son of the great Dikembe Mutombo, the junior center has made great strides since this time last year. The older Mutombo was in attendance on Saturday and absolutely loved a few of the plays the younger big man made. While he is not a light of foot prospect, he is a quality 15-foot and in weapon that can shoot, pass and rebound. A mid-level recruit just a year ago, his father's alma mater, Georgetown, just offered, joining Georgia Tech as the two power programs to have done so thus far.
Xavier will be known for its toughness. Two Xavier recruits were on display over the weekend and displayed all that it means to bring a lunch pail and hard hat to the playing floor. Colby Jones averaged over 34 points throughout his two outings and while he can put the ball through the basket, he's going to be first relied upon for his defensive grit and willingness to win the 50-50 ball; he has top tier glue guy written all over him.

Alongside him next season will be Dwon Odom. His jumper remains a work in progress but it's his downhill driving abilities and finishing in the lane that stand out the most. The two will uphold Xavier's blue-collared mentality.
Jabari Smith's upside is as good as you're going to find. So, he isn't the athlete some would hope, but every other box he checks. His stroke is pure to 21-feet, boasts an underrated feel for the game, competes on both ends and for not being super explosive, is great at changing shots on the defensive end. Smith is the personification of a next level power forward.

Blue bloods are showing interest but they better hurry because the work that Alabama, Auburn, Florida State, Georgia and LSU have invested may be too much to overcome.
Eugene Brown is going to be awesome at Ohio State. Chris Holtmann is working wonders in Columbus and that won't change once Brown enrolls. Finally healthy and for a prolonged period, the four-star wing has begun to show some dog on the playing floor which, coinciding with his shooting prowess, athleticism and defensive potential, makes for one of the better wing prospects found within the 2020 class. Brown will make shots early and often for the Buckeyes and is another piece to build with towards a Big Ten title.
Kanaan Carlyle is a bucket-getter. We talked about it on Friday evening and Carlyle was back at it again to close out the event. He averaged 24 points throughout his two-game showing. He is going to grow some more, but already has a skill set that should translate to the higher levels thanks to his three-level scoring prowess.

Auburn, Clemson, Florida and Georgia Tech have already offered, but his list will only expand from here on out. Carlyle is a premier scorer in the 2023 class and will be recruited as such.
The recruitment of JT Thor could last a little longer. The feeling was that Thor would sign earlier this month; the early period has now come and gone and he is still unattached. Maybe Thor makes a quick decision soon, but that likely won't take place until he at least visits Kentucky. Georgia and Kansas are also involved but Oklahoma State remains the team to beat. Can UK overcome the Pokes? Stay tuned.
Kendall Campbell is one of the more underrated prospects down south. Bringing great size to the perimeter and a capable combo forward that can both make shots and rebound, Campbell is due to see his first offer trickle in any day now.

Georgia State, Missouri, and Temple are just a few involved but it says here that the talent, toughness and versatility is all in line that will make Campbell a heavily recruited prospect out of the 2022 class.
Jermontae Hill is one to gain this winter. Showing for a dearth of quality high-major prospects following the early signing period, Hill has major value this winter thanks to his underrated playmaking skills, versatility and toughness. The ultimate utility knife that competes on both ends, Florida State and Missouri are the two standing out, though a decision is not expected for another few months. Expect for more to jump into the picture as Hill has saved all of his official visits for the spring.
MJ Rice is already a national commodity. It was not the best of starts for Rice over the weekend, but he did his best to pull his team back into it before coming up short. A continued competitor at various USA Basketball camps in recent years, Rice displayed why he is one of the best in the 2022 class. His jumper has gotten better, body is already close to being labeled as 'college-ready', and the toughness that he brings to the floor should never been slighted.

He has yet to take a college visit yet but does hold offers from Kentucky, NC State, Oklahoma State, Ole Miss, Pitt, and Providence.
Robbie Armbrester begins his high-major recruitment. I'm actually a bit surprised more teams aren't involved, but kudos to Georgia Tech for breaking the ice. The Yellow Jackets dispatched an assistant for him on Saturday and had to be impressed by his finishing abilities, toughness and energy provided. He doesn't shoot it great just yet which is why others are at a wait-and-see with him.

UAB and Georgia Tech are standing out, though Clemson, Georgia, and Ole Miss are also involved.