Four-star Woodard is a big time scorer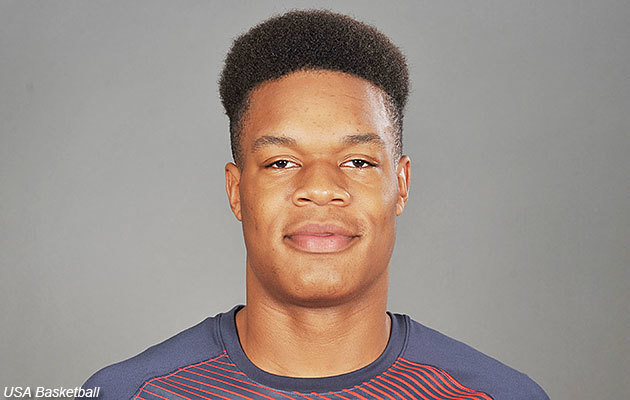 Looking at four-star wing Robert Woodard, it's hard to believe that he's just finishing up the tail end of his sophomore year of high school.
The 6-foot-6, 220 pound scorer from Columbus (Miss.) High has a strong and developed type of build that most college sophomores would love to have.
Though his strength certainly helps him, Woodard has ascended to the top 20 of the class of 2018 because of his skill. He's a big time jump shooter with legitimate NBA range, he is a very good pull-up jump shooter and he understands how to use his big body to draw and finish through contact or earn trips to the free throw line. He is also a winner, helping deliver Columbus their first ever state title in March.

Woodard's father Robert Sr. played his college ball at Mississippi State and not surprisingly the Bulldogs and Ben Howland made him a priority during April's two live weekends. Iowa State has offered and is chasing hard while other offers have come from programs like Baylor, Tennessee, LSU, Georgia, Alabama and Middle Tennessee State.

IN HIS OWN WORDS...
"My strengths are attacking the basket, trying to draw a foul, shooting the mid range jumper. My weaknesses, I need to get my ball handling tighter and I need to keep working on seeing the open man on the floor."
"After this summer I'd like to start narrowing my recruiting down a little bit. For right now I just want to keep working on my game and getting better every day.
"I haven't decided yet if I'm going to take my time or do something early. That's something that I'm going to talk over with my dad because he will be the main one helping me out."

RIVALS' REACTION
Seeing Woodard in April, it was good to see him continuing to expand his game. He's such a good jump shooter that he could hang around the perimeter and settle for deep shots but he's not fallen into that trap. He's done an outstanding job of developing his all-around game and he's also changed his body from one that had some baby fat to one that is mostly muscle. That takes some dedication in the gym so it's clear that he's putting in the work.
Woodard says that he's open and that he is in no real rush to make a decision. However, given his family ties to Mississippi State and that the Bulldogs are making him an early priority, it's easy to understand why many feel that they will be the team to beat in Woodard's recruitment.