Five-star Trent delivers at Jayhawk Invitational
OVERLAND PARK, Kan. -- If there were any questions about Minneapolis-based Howard Pulley shooting guard Gary Trent's five-star status in the class of 2017 and point guard Tre Jones top 30 status in 2018, they proved their worth at the Jayhawk Invitational. Already undefeated through two sessions of Nike's EYBL, Trent and Jones helped Pulley add a title at the Jayhawk.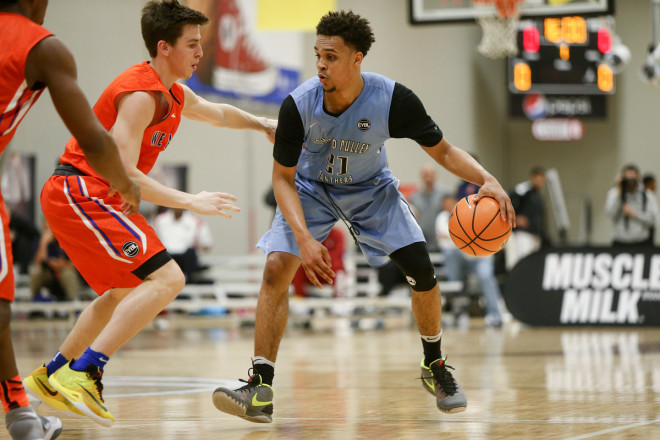 The only undefeated team in Nike's EYBL, the Howard Pulley Panthers entered the Jayhawk Invitational with a big target on their back. Thanks to the play of 2017 five-star shooting guardGary Trent Jr. and 2018 four-star point guard Tre Jones, they emerged as champions of the 17U division.
Ranked No. 15 overall in the class of 2017, Trent was far and away the most polished and prolific scorer in the event. He showcased the 6-foot-5 size, strength and skill that has drawn offers from Duke, Kentucky, Ohio State, Michigan State, Arizona, UCLA, Kansas, Oregon and Minnesota among others. Maybe most impressive is Trent's ability to take defenders into the low post where he has a more diverse group of moves than most elite big men. That shouldn't be a huge surprise, though, considering his father Gary Sr. played nearly 10 years in the NBA paint.
Like Trent, Jones has NBA bloodlines. Older brother Tyus -- who won a national championship at Duke -- just finished up his rookie season with the Timberwolves and little brother served notice that his No. 29 ranking in 2018 is merit based. Sneaky athletic and quick at almost 6-foot-2, Jones is bigger than he looks from afar and is tremendous as a downhill point guard getting to the rim and makes plays. His jumper can keep defenders honest and he's an absolute ball-hawking defender who has offers from Arizona, Duke, Baylor and Minnesota.
Trent told Rivals.com that Michigan State and UCLA were the most recent programs in to see him and he saw Duke, Kentucky and UCLA during the 2015-16 season. He'll cut down his list and set visits before his senior season but is focused on the summer.
"Whenever you put up a big summer like I had last summer and you get off to a big start like we have this spring, people want to see if you can continue to play at a high level," Trent told Rivals.com. "We come out every game to try and prove that. We come out and keep pushing and keep trying to prove ourselves.
"I'm trying to lock in on both ends and really playing hard. Last year I had a heavy scoring load. This year I have a great supporting cast and I want to get them involved and I show that I'm more versatile."
FRESHMAN DUO HAS KANSAS, KANSAS STATE OFFERS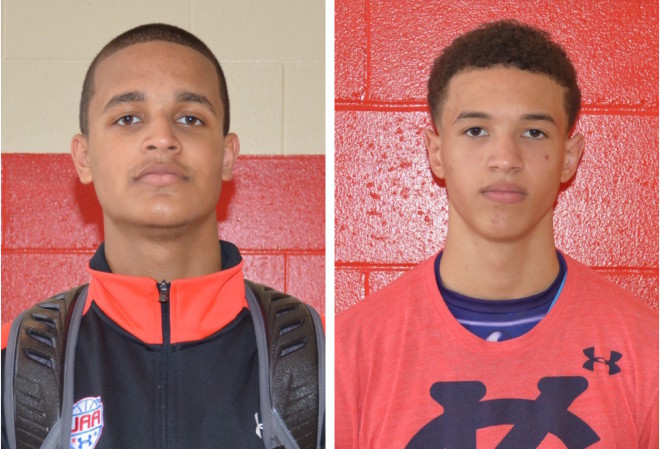 The KC Run GMC 15U duo of power forward Jeremiah Robinson and combo guard Zach Harveyis making lots of early noise. Their team is undefeated through two sessions of Under Armour's Association and they were key in wining the 15U title at the Jayhawk.
Robinson is a power forward with athleticism to spare, rebounds at a high rate and is a skilled passer with a workable jump shot. He runs the floor and plays with energy that rubs off on his teammates.
Harvey is a smooth 6-foot-3 combo guard with length. He already shows feel for how to navigate the high ball screen, can knock down jumpers and is a rangy athlete with upside.
Because of their spring play, both Robinson and Harvey have picked up offers from home state high majors Kansas and Kansas State. Creighton has also offered the duo and Wake Forest has offered Robinson. North Carolina, Iowa and Maryland have showed early attention and the freshmen are doing their best to take it all in stride.
"It's exciting that my hard work is starting to pay off," said Robinson. "I want to get to all the coaches and I want to learn about all of the styles that they play."
"I was kind of surprised by the offers," said Harvey. "But I feel they were deserved because I've been putting the work in and preparing for this."
MORE NOTABLES FROM THE JAYHAWK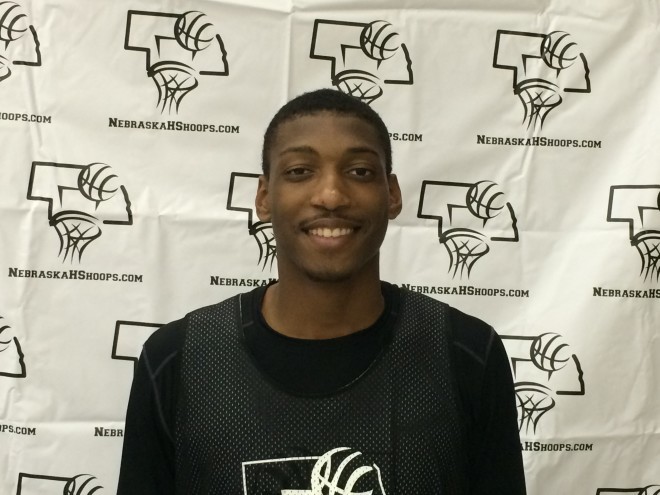 Team Nebraska Express' 6-foot-7 power forward Anthony Bratton had a big weekend. He's long-armed, tough, athletic and showed some skill while performing consistently. A legitimate mid-major prospect, he has attention from Middle Tennessee State, South Dakota, Drake and Nebraska-Omaha but surprisingly no scholarship offers. Bratton got a lot of help from Nebraska-bound swingman Aguek Arop. Arop used his strength and athleticism to make several plays at the rim and showed a tremendous motor. Also showing promise was 2018 combo guard Junub Char. Char is skinny, but he can really score off the dribble.
Team Rush's duo of 2017 wing Jamichael Morgan and 2018 combo guard Jordan Lathon made noise. A big-time athlete and transition finisher, Morgan earned his first offer from Maine last week and the southpaw also heard from Wichita State, North Dakota State, Tulsa and Drake. Also a high-end athlete, Lathon loves to attack the rim and shows tremendous promise as a defender. He's got similar interest as Morgan and had Nebraska in during the season along with others like Creighton and Arkansas making recent calls.
Rivals150 guard Darien Jackson was getting to the rim for the KC Run GMC 17U squad's three-guard offense. He's been efficient this spring and added Boise State interest to go with offers from Kansas State, Illinois State, Weber State, UTEP, UMKC and Stephen F. Austin. Creighton-bound four-star Mitchell Ballock played through an ankle injury and had moments as a jump shooter and playmaker. Point guard Jacob Gilyard can shoot from deep, is vocal and lists offers from UMKC, UAB, Richmond, American, SFA, Long Island and Portland to go with interest from DePaul, Wichita State, Wofford, Tulsa and others.
Point guard DeMarco Smith of Team Kansas City is a breakout player this spring. Smith is athletic, long and gets to the rim. He's got terrific floor vision and puts pressure on the defense because of his ability to force the action. New Mexico, Xavier, Butler, Northern Iowa and Chattanooga have all been in contact. Teammates Angelo Allegri and Matt Pile are Division One prospects as well. Allegri is a big and strong wing with shooting range while Pile is a rugged post player with offers from Sam Houston State and Lehigh.
Three-star 2018 power forward Daniel Oturu showed why he scored a recent Iowa offer with his length, ability to run, touch around the rim and athleticism. Tough shooting guard Brad Davison has range and recent offers from Dayton, Wofford, Furman, Yale and others. Rivals150 big man Theo John is as rugged with tremendous strength and willingness to do the dirty work. He took a spring official visit to Oklahoma and said Illinois, Marquette, Nebraska and Minnesota are all active with him.