Five-star Ferguson opens it up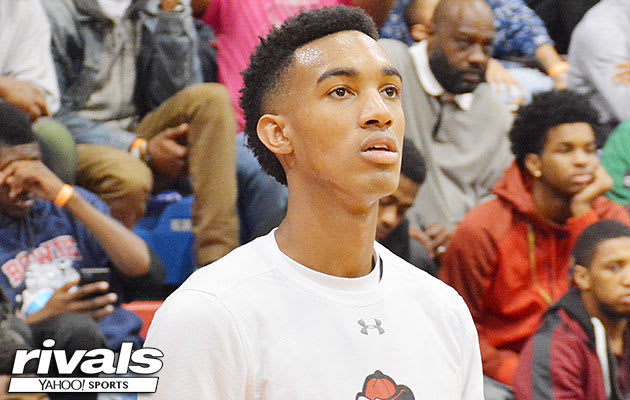 Ever since five-star shooting guard Terrance Ferguson elected not to sign his letter of intent with Alabama during the early signing period, rumors have persisted that he would open things up.
Those rumors came to fruition on Tuesday when the 6-foot-6 senior at Dallas (Texas) API's coach Ray Forsett confirmed that the No. 12 player in the 2016 class has opened up his recruitment.

IN THE WORDS OF FERGUSON'S COACH:
Ferguson's coach at API, Ray Forsett cleared up the reason for Ferguson opening things up, touched on where the high flying shooting guard stands and addressed rumors about potential academic issues from Ferguson's time at his previous school, Prime Prep.

"He still very much interested in Alabama. He just wants to take some time and think about his decision and open it up and see if he's making the right decision. He just wants to go on some visits and talk about it with some schools and go from there."
"His focus is finishing up school and preparing for these different All-Star games coming up."
"I know there are a lot of questions and concerns about the kids who have gone to Prime Prep. Terrance has done everything that he's supposed to do to make sure that he's a qualifier. He's taken the right classes from a school that has an approved 48H and he's done everything to make sure that he's where he needs to be academically."

RIVALS' REACTION:
That Ferguson has chosen to open up his recruitment doesn't come as a huge surprise. There has been a lot of smoke around his situation for some time now and it was just a matter of nobody close to him being willing to confirm that he may open things up.
Now that he's officially back on the market, Ferguson will surely have his pick of schools.

WHAT'S NEXT?
For now, Ferguson wants to take his time and focus on his academics and upcoming appearances in the McDonald's All-American and Hoops Summit games.
Though there has been lots of speculation that Baylor and Kansas will be two programs heavily involved -- especially after he went to a game between the two at Baylor last week -- Ferguson does not yet have a list of schools that he will consider. Per Forsett, there is no rush to sit down and decide which schools to consider and he will take multiple visits before making his pick.