EYBL: Sexton, Jackson on the rise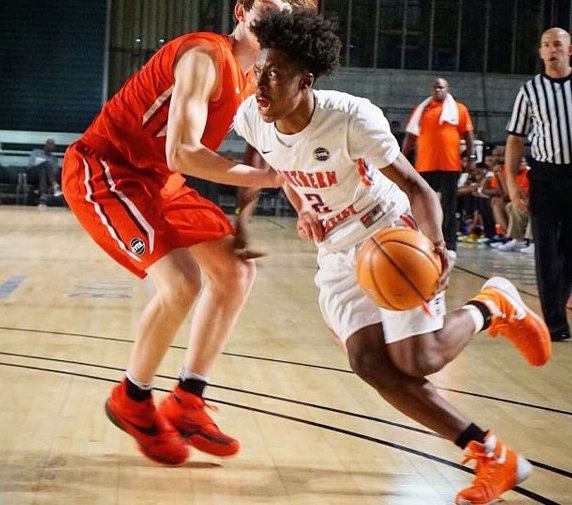 Make no mistake, four-star point guard Collin Sexton was an outstanding prospect before Dec. 2015. But it was shortly after Christmas during his junior season that he traveled to the Holiday Classic in Torrey Pines, Calif. and saw his recruitment take off.
As a result of his play there and in the Georgia playoffs with Mableton (Ga.) Pebblebrook, the 6-f0ot-1 Sexton debuted at No. 59 in the 2017 Rivals150.
Thanks to his play in the EYBL with the Southern Stampede, his climb up the rankings should continue. An explosive scorer who is always in attack mode and constantly puts pressure on defenses, Sexton is leading the entire EYBL in scoring at 30.1 points per game and interest from college programs has gone through the roof.
Sexton now holds offers from Arizona, Seton Hall, Oklahoma State, Alabama, Georgia Tech, Georgia, Florida, VCU, Auburn and Texas A&M among others. He's planning an unofficial visit to Florida next weekend, recently hosted Alabama for an in-home visit and had Kansas in to see him last week.
"It's been really exciting," Sexton told Rivals.com. "A lot of schools got in touch with me after I played out in California. Now in the EYBL it's even more. I can play the point or the two now, but in college I will play the point and that's how I want to be recruited."
JACKSON REACHING NEW LEVELS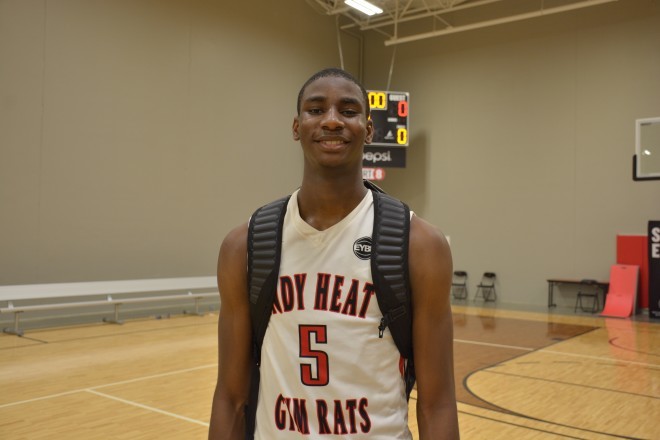 Speaking purely from a standpoint of potential, current No. 63 in 2017 Jaren Jacksoncould have as much ceiling for growth as anybody in the junior class. He won't turn 17 for a while and he's a skilled forward who has grown to every bit of 6-foot-9 thanks to a growth spurt and it doesn't look like he's stopping that growth soon.
Known for giving glimpses of potential in the past, Jackson is starting to put it together playing for the Spiece Indy Heat in the EYBL. He's running the floor, making an impact on the glass and despite a bit of a funky jumper, he's showing that he can be a dangerous faceup guy.
Both of Jackson's parents were athletes at Georgetown, so the Hoyas are certainly in the mix. So are Maryland, Indiana, Notre Dame, Illinois, Michigan State, Stanford, Xavier, Purdue and many others. Michigan State, Stanford and Maryland were all in to see him during the last week.
Jackson said he hasn't yet set his heart on any official visits and there's a good chance his decision could stretch out into his senior season.
"I don't know about official visits, but I will probably narrow it down a little bit after AAU, and then I should probably commit before January."
MORE NOTES
The offers are starting to roll in for Andrew Platek of the Albany City Rocks. A tough and skilled 6-foot-4 shooter with some off-the-dribble game, Platek has elevated his play during the EYBL. Platek listed offers from Butler, Davidson, George Washington, Yale, Harvard, St. Joseph's, Albany and Miami to go with growing interest from Indiana, DePaul and Harvard. Platek said that he's planning an unofficial visit to see the Hoosiers on the weekend of May 7.
Ranked No. 45 overall in the class of 2017, 6-foot-6 small forward Kimani Lawrence of Expressions has battled some injuries in the past. The four-star prospect said that he's finally closing in on 100 percent and it's showing with his increasing explosion and confidence on the offensive end. Lawrence listed offers from USC, Providence, Rhode Island, St. Bonaventure, Xavier, Miami and Creighton to go with recent interest from Texas, Stanford and Syracuse.
Thanks to a big sophomore season, Houston Hoops wing Matthew Mayer made a debut at No. 58 in the 2018 rankings. A 6-foot-6 jump shooter with some athleticism, he's struggled at times playing on the 17U level of the EYBL but his stroke, size and feel bode well for his future once he adjusts to the physicality. Mayer listed offers from Texas, Baylor, Texas A&M, Nebraska, Tennessee and Creighton to go along with interest from Kansas.
Ranked No. 14 overall in the class of 2017, 6-foot-7 wing Brian Bowen of Meanstreets is far from an unknown. However, he's added doses of physicality and aggressiveness to his game and is making a push for the national top 10. Notre Dame and Villanova are his most recent offers and Tom Izzo and John Beilein were both in to see him last week. Texas, Kansas, UCLA and many others have also offered.
Because he's a five-star talent -- deservedly so we might add -- explosive shooting guard Hamidou Diallo tends to get the most love for the New York Rens. But after watching them in the second session of the EYBL, Rivals150 point guard Jose Alvaradolooks like the heart and soul of the squad. Alvarado might be six feet tall and he's not particularly bulky but he's an all-out competitor and vocal leader. He was recently on Seton Hall's campus and has also heard from others like St. John's, Indiana, Miami and VCU to name a few.
In the middle of a growth spurt, 2018 five-star Cameron Reddish is now pushing 6-foot-8 as he develops into a big wing. Each time out he becomes a little more assertive and he looks to be reaching his potential a little more with each trip onto the floor with Team Final. Reddish listed offers from Maryland, Connecticut, Penn State, Auburn, Villanova and VCU to go with interest from North Carolina, Duke and Syracuse.
The race is about to be on for four-star big man Mitchell Robinson. Robinson has decommitted from Texas A&M and will be a wanted man for his rim protection and rebounding. At 6-foot-11, Robinson is quick off his feet, has great timing and alters as many shots as he blocks while shutting down the lane. His offense needs work, but it is coming along as he's averaging 14.1 points, 12.7 rebounds (3rd in the EYBL) and an EYBL leading 4.4 blocked shots per game. He might be ranked too low at No. 33 in the class of 2017.