Top Performers from EYBL: Bamba, Bagley, Porter shine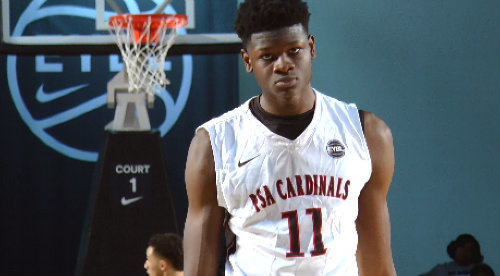 BROOKLYN, N.Y. - There was plenty of elite basketball to watch this weekend at the first EBYL stop. Below are my starting five and other top performers from Brooklyn.
Point guard: Quade Green

Ranked No. 50 overall in the class of 2017, Green showed great court sense in transition this weekend and made a few good dishes to teammate Mohamed Bamba that turned some heads. After three games, the four-star point guard is averaging 10.3 assists per game.

Duke has yet to offer but the Blue Devils are showing interest.
"I want to get to Duke, Michigan State, Louisville, Miami and USC this summer," he said. "I plan on cutting my list down in August and making my decision in September."
Weekend stats: 13.7 PPG, 50.0 3PT% and 10.3 APG
Shooting guard: Hamidou Diallo
A 6-foot-4 shooting guard who ranks No. 10 in the class of 2017, Diallo may have been the most athletic player on the floor this past weekend. He made incredible plays in the lane and got stops on defense with six steals against a talented PSA Cardinals team. He's definitely a must-watch player for coaches and is a walking highlight reel in every game he plays. He recognizes that his three-point shot needs work and has mentioned it's something he'll work on this summer.
Kentucky and Connecticut have made the five-star shooting guard a priority with Kansas and Arizona showing heavy interest. Duke offered this week.

"I'm interested in every school that's recruiting me," he said. "I don't have any favorites right now and that's the truth. This whole process is just a blessing and something I've worked for."
Weekend stats: 18.3 PPG, 3.7 RPG 3.3 SPG,

Small forward: Michael Porter

Kevin Durant would be proud of the team he sponsors weekend in Brooklyn. MOKAN Elite scored at least 80 points per game and beat each opponent by 14 or more points. Leading the way was the No. 2 player in the 2017 class, Porter. The 6-foot-8 wing didn't take a lot of outside shots but was unstoppable in transition and got some easy passes from teammate and five-star point guard, Trae Young.

Porter is in the midst of conducting in-home visits with Texas A&M, Indiana and Washington this week. Kentucky, Kansas, Duke and Oklahoma were also on-hand watching him play over the weekend.
Weekend stats: 21.7 PPG, 3.0 APG, 7.7 RPG

Power forward: Marvin Bagley

The No. 1 player in 2018, Bagley made his return to the court in Brooklyn and was impressive on both ends of the floor while doing a little bit of everything. Bagley's off-the-block game has really started to develop and he finishes well around the rim.

North Carolina, Duke, UCLA, Arizona, Kentucky and Michigan State were all watching him play this weekend. Bagley has been on Duke and UCLA campuses recently.
Weekend stats: 17.0 PPG, 7.7 RPG, 2.3 APG

Center: Mohamed Bamba

Ranked No. 3 in the 2017 class, Bamba is averaging a double-double (15.3 points, 15.7 rebounds) after the first EYBL weekend. He won the battle going head-to-head against DeAndre Ayton on Saturday and was a factor in all three of the PSA Cardinals wins in Brooklyn. The most recent schools to be in contact with Bamba are North Carolina, Wake Forest, Duke, Connecticut and Indiana.

Weekend stats: 15.3 PPG, 15.7 RPG, 3.3 BPG
MORE NEWS, NOTES AND ANALYSIS
Four-star center Mitchell Robinson is a defensive force in the lane averaging four blocks and 15 points per game. Robinson is verbally committed to Texas A&M but said LSU is still talking to him.
The No. 4 player in 2017 Wendell Carter did not play this weekend with new team CP3 after transferring from Georgia Stars.
Chuck O'Bannon had a strong showing in Brooklyn. He had two games with 20 or more points. When his three-point shot isn't falling, he's able to get into the lane and finish. There were a lot of coaches on hand to watch O'Bannon, five-star PJ Washington and five-star Troy Brown when the two teams matched up on Saturday.
No. 1 in 2017, DeAndre Ayton had a quiet weekend. He left the game twice against Bamba with leg cramps. Kansas, Duke and Kentucky were in the building to watch him play.
The numbers put up by five-star point guard Trae Young speak for themselves: 24.7 points and 5.3 assists per game. He can knock down the three or make a play at the rim. MOKAN Elite made a statement over the weekend as the team to beat. Young did have some turnover troubles (six per game), but his skill is off the charts. He's conducted in home visits with Kansas and Texas Tech this week.

Brandon McCoy was quietly impressive in the first round of the EYBL in Brooklyn. He has great size in the post and gave the five-star Bamba problems, scoring 17 points on Saturday. A top 10 player in the 2017 class, McCoy said Arizona, UCLA, Cal, USC and Michigan State are recruiting him the hardest.