EYBL Brooklyn: 5-star talent on display
BROOKLYN, NY - There was plenty of talent on hand in Brooklyn for the first stop of the EYBL. The day started with five-star Brian Bowen dramatically knocking down a free throw to defeat the heavy-talented Georgia Stars. Every game following featured five-star talent from DeAndre Ayton and Mohamed Bamba to Billy Preston and Marvin Bagley.
NATION'S TOP BIGS DUEL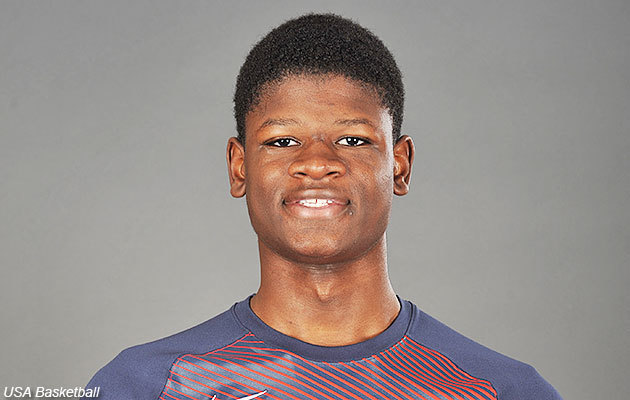 The afternoon game on EPSN was all about the No. 1 player in the 2017 class DeAndre Ayton against the number three player in the 2017 class Mohamed Bamba.
Bamba won most of the battles down low and finished with 13 points. His team PSA Cardinals edged out Ayton's California Supreme 69-68.

"I was excited to play today. As soon as I heard we were playing them it was like my Super Bowl," Bamba said. "I could barely sleep last night."
Almost every coach attending the EYBL was on hand for this game including Roy Williams (North Carolina), Tom Izzo (Michigan State), John Calipari (Kentucky), Tom Crean (Indiana), Bill Self (Kansas) and Jay Wright (Villanova). "I see the coaches sitting there but it's business on the court. The most important thing is my team and getting the win so I try to stay focused and not get distracted by who's watching."
When asked about recent offers, the 6-foot-11 power forward can't think of a school that hasn't offered. "Later on this summer I'm going to sit down and really go through everything and hopefully have a top ten list by August so I can start scheduling some visits."
The most recent schools to be in contact with Bamba are North Carolina, Wake Forrest, Duke, Connecticut, and Indiana.
BOWEN STARTING STRONG
Brian Bowen, a five-star who ranks No. 14 in the class of 2017, was aggressive offensively and finished with 19 in his first game with Mean Streets on Saturday. Even though he was the one to knock down the winning free throw, he gave credit to his teammates. "We really played together. Especially in the end and it was a tough win for us."
There were plenty of coaches on hand to watch the five-star small forward play and he recognizes the opportunity. "I'm trying to show coaches that I'm working hard, that I can knock down shots and I'm aggressive on both ends. I just want to try and continue to improve the rest of the summer and I hope that pays off."
Bowen wants to eventually narrow down his list this summer but there are late offers are intriguing him.

"Schools like Maryland, Villanova and Kansas coming in late but I really want to give them the same opportunity as the others and see what they have to offer. Ideally I'm just looking for the school that puts me in the position to make it to the next level."
When asked what schools were talking to him the most he mentioned Michigan State, UCLA, Duke and Kentucky. All four schools were on hand to watch him play.
PRESTON TALKS FINAL FOUR SCHOOLS
Five-star power forward Billy Preston recently cut his list to a final four of Maryland, USC, Kansas, and Arizona. However, he has left room for one school to make it a final five should they offer, Kentucky.

"Kentucky hasn't offered yet but they're close. I'm pretty set on these four schools but if a team comes in late with an offer I'm definitely going to take a look."
USC has an in-home visit scheduled with No. 6 ranked junior next week and he plans on taking officials to Kansas and Arizona after the AAU Season. His high school teammate Terrance Ferguson recently committed to Arizona and has already started recruiting him for next year. "He called me right away after committing and told me about his visit and how great the program is there."
Preston has no immediate timeframe for when he'll make his decision but said it will be during the school year after he takes his official visits.
EASTERN IMPRESSES EARLY
Coming off an ankle injury that kept him sidelined for most of the AAU season last year, four-star shooting guard Nojel Eastern definitely turned some heads Saturday. He finished with 16 points in a one-point win over the Georgia Stars. Eastern was a threat in transition and has a great first step to either pull up for a jump shot or get to basket.
Eastern currently has 14 offers and UCLA, and Ohio State are showing heavy interest. "Seton Hall, Xavier, Purdue and Michigan State have been in the most contact. Seton Hall came to a couple of my high school games and it's just great to have all the coaches show up and watch me play."
Eastern plans on taking his time with the recruiting process waiting to see how recruiting classes develop at each school. He plans on starting to trip his list late this summer and take some visits in the fall. "This is a really big decision and I just want to see who they have coming in and who's leaving. Education is important too. I want to pick a school that can help me outside of basketball as well."