Dotson is a wanted man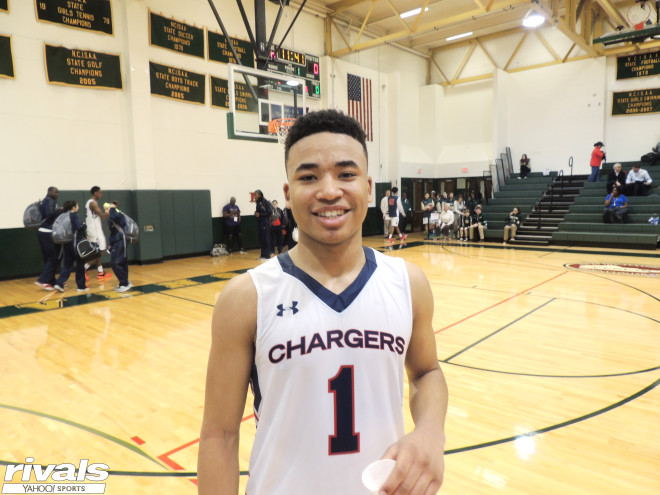 Charlotte (N.C.) Providence Day point guard Devon Dotson has become a wanted man of late. He's received offers from Clemson, Florida, Georgia, North Carolina, N.C. State, Tennessee and Wake Forest in the past year. Kentucky and Virginia have both been showing heavy interest as well. Virginia head coach Tony Bennett recently stopped by his school to see him.
IN HIS OWN WORDS
Dotson talked about his interest in the in-state schools as well as what offers from Kentucky and Virginia would mean.
UNC: "I think it's a great program. It's just a historic program that is always pushing players to be the best player they can be. They have great coaches and everything else."
NC State: "I've heard great things about their program from people as well. They got a great point guard in this class in Dennis Smith, so they must be doing something right over there."
Wake Forest: "I like Coach Danny Manning. He's a great guy. He always asks about how my family is doing and how I'm doing in school. I like their program a lot."
Kentucky: "They said they are looking at me and they are going to come to the Under Armour events this summer to see me. They have a great program. Coach Cal is hard on his player and makes sure they become great young men. He puts a lot of point guards in the NBA, and that's my goal.
Virginia: "I haven't personally talked to them, but my coach and my dad have. They made a good run in the tournament this year and they are always at the top of the rankings. It's a great program and they make kids better."
WHAT'S NEXT?
Dotson will suit up with Team Charlotte and play in the Under Armour Association during the upcoming travel season. He could take visits throughout the year, but doesn't have any planned. He'll make a college decision when the time feels right.
RIVALS' REACTION
North Carolina has certainly caught his attention with its history as a program. Offers from Kentucky and Virginia could shake up his recruitment though. Don't sleep on the other in-state programs, N.C. State and Wake Forest. Dotson seems genuinely interested in both.