Diallo backing up big-time status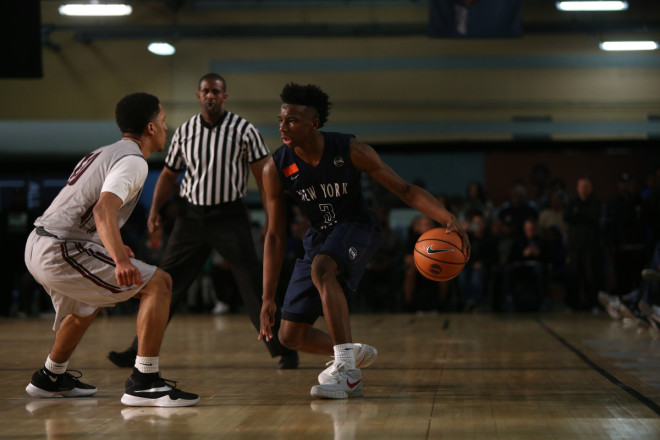 WESTFIELD, Ind. – With his No. 10 national ranking in the class of 2017 and five-star status, shooting guard Hamidou Diallo of Putnam (Conn.) Science is a wanted man.
College coaches want to land his commitment while opposing players want to prove that he's not as good as everybody says he is.
The college coaches are going to have to wait, but Diallo is having no trouble proving that his ranking is earned. Playing for his new team, the New York Rens in Nike's Elite Youth Basketball League, Diallo has been pretty much unstoppable averaging 20.3 points, 5.6 rebounds, two assists and two steals per game.
Diallo's bread and butter is attacking the rim and his fearless attacks earned him offers from Duke – via a Facetime conversation with Mike Krzyzewski – and Kentucky a week ago. Those two heavyweights joined Connecticut, Kansas, Villanova, Syracuse, Louisville, Indiana, St. John's and many others who have offered scholarships.

IN HIS OWN WORDS ...
According to Diallo, he feels no pressure to perform up to his ranking. While he's honored to have new offers, he's not in any kind of hurry to make an official list or make a decision.

"There's no pressure on me," he said. "I just have to come out and play hard every game. It's been a great adjustment (playing with the Rens). I've just become a leader. I've improved that since the high school season. I just need to keep tightening up my handles and tightening up my shot. ...
"All I can really say is that it is a blessing, I just feel blessed. It's a blessing having Duke and Kentucky offers added to my other offers. ...
"Right now I'm just worried about the summer. I want to keep on getting wins and keep on getting better and then after the summer I will start narrowing things down."
RIVALS' REACTION ...
Given that we ranked him in the top 10 of the junior class, we aren't surprised to see Diallo performing the way he has. If anything his transition to a new team and a new grassroots circuit (he played last summer with the New York Jayhawks in Under Armour's Association) has gone even smoother than expected.
Diallo's self-assessment that his jump shooting and ball handling need improvement is correct. However, he is showing signs of becoming a better shooter as his mechanics look much improved. Also, in a fashion that is similar to the way Villanova uses Josh Hart, he's a guy you can put between the free throw and three-point lines and trust to go make plays because he's so aggressive in seeking contact off the dribble.
That Diallo wants to take his time before making a decision makes sense. As the blueblood programs start to show more interest, Diallo is likely going to want to see who is staying and who is leaving if they are going to be a final option for him.