Collins to get spotlight on him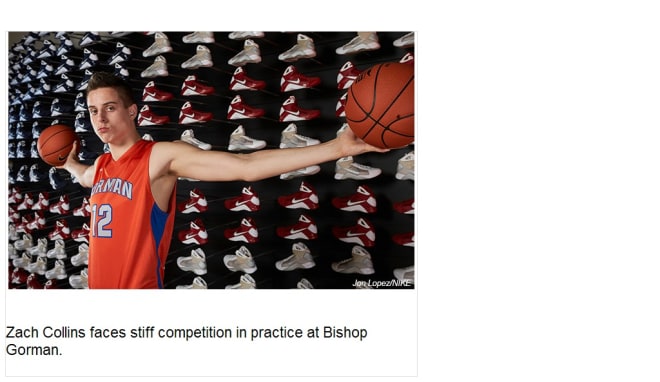 Currently ranked No. 56 in the 2016 Rivals150, Collins is a 6-foot-11 power forward with a lot of skill. He runs the floor, makes jumpers and has a versatile game. Playing with other talented bigs has been mutually beneficial to all involved, even if it has prevented Collins from putting up huge numbers.
"When this is all done, not too many other people in the country will be battle-tested on a daily basis," said Mike Collins, an assistant at Bishop Gorman and Zach's father. "The talk is he gets better playing with those guys, but the reality is those guys get better playing against Zach, too. They all benefit and they are all uniquely different."
"Skill set-wise, he's far better than people know because of his limited time," said Collins. "Playing on a broken tibia he averaged 18 and 15 on the Adidas circuit. From what college coaches tell me, his skill level is off the charts. I don't think they realize how physical and athletic he is and they'll see that soon enough.
"He's a guy that goes at contact, not away. He's inviting it and that's missed."
"The coaching staff stands out," said Collins. "It's hard to evaluate a program when it's the coaching staff's first year because it's not really all of their guys. But the coaching staff, Coach Martin, I feel like he's my brother from another mother type of guy. Basketball is important, but it's not the only thing. You have to be a good man and he stresses that."
After Cal, San Diego State was next up on the visit docket and the sense of family impressed.
"Utah was great," said Collins. "It was very impressive. The best way I can explain it is to imagine how an NBA team would be run. From the practice to the shootaround to the game, I would imagine that is how it is all run in the NBA. The thing about Coach Krstowiak is that he played Zach's position and that's really rare and that's a really big deal."
New Mexico head coach Craig "Noodles" Neal was the first coach from Collins finalists to offer a scholarship. The Lobos got the fourth visit.
"The thing about Noodles, when Zach was fumbling around and 6-foot-8, he saw him and offered him on the spot with the whole family there," said Collins. "He will tell you he was the first to see it and we see that and respect that. Cullen (Neal's son and current guard) and Zach have a great relationship and I have a great relationship with Coach.
"It's pretty crazy how entwined that community is with the Lobos. That was real special."
The final visit was to Gonzaga and wrapped up earlier this week.
"That's probably who has the best relationship with Zach, Gonzaga. They talk with him literally every day," said Collins. "We knew going in that we had taken an unofficial in the fall. Because of the unofficial, we wanted to get an in-game feel for the Zags. Going to Gonzaga was great in terms of, as good as the Pit is, the student section at Gonzaga. Good grief, one of the most impressive things we've seen. With that, the coaching staff was great."
Last but not least, hometown UNLV has managed to fly under the radar. Because of location there was no need to take an official visit and the Rebels have one thing in their back pocket that nobody else does, location.
With his visits taken care of, the next step is for Collins to make his decision. There isn't an exact timetable, but it will more likely happen sooner than later. Collins would like to get back to focusing on school and hoops, plus he wants to give the schools he doesn't pick time to move on to other targets and he hopes that the school that gets him will be able to use him to help their recruiting.
"I think he does know what's important to him and it has always been about relationship and fit," said Collins. "He has to be able to see himself and how he fits in the programs and what's there for him."