Big game hunting at the Peach Jam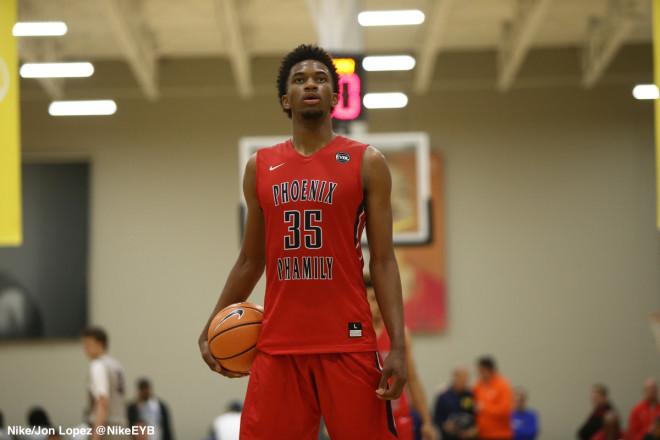 NORTH AUGUSTA, S.C. -- In just four rounds of games at Nike's Peach Jam, the No. 1 players in 2017, 2018 and quite possibly 2019 all hit the floor and showed what they could do. DeAndre Ayton, Marvin Bagley and R.J. Barrett were just the tip of a talent iceberg passing through the Riverview Activities Center on a Thursday night that featured big-time players doing big-time things.
BAGLEY HAS SUPERSTAR POTENTIAL
In a world where it is our job to publicize the next big thing, we try to be cautious when it comes to hyping talented young players to avoid creating unnecessary expectations. That being said, 2018's No. 1 player Marvin Bagley showed Thursday that he could be a superstar in the making.
The 6-foot-10 power forward was simply that good.
Finishing with 27 points and 15 rebounds, Bagley made it clear that he was the best player in the building. He skied to block shots, played above the rim on offense, showed touch on mid-range jumpers and some passing skill. What really stood out, though, was the level of aggression and toughness that he played with. Maybe the only question about Bagley has been whether or not he has a killer instinct and that looked like a foolish concern Thursday.
What's most impressive is that he's still got a huge ceiling for growth. Mike Krzyzewskiwas watching closely for Duke and Arizona, Kansas, Kentucky, UCLA and many others all had head coaches sneaking looks.
WALKER EARNS FIFTH STAR
Make no mistake about it, 6-foot-5 shooting guard Lonnie Walker's fifth-star has been earned and not given.
Ranked No. 26 overall in 2017, there's never been any question about his talent. It has just been a matter of us being in attendance for one of the games where he just goes off. He went off in a big way on Thursday night with 26 points, 10 rebounds and six assists.
He shot it from deep, he made terrific reads to find teammates and he competed at a high level. Mix in terrific performances from his point guard Daron Russell (25 points) and big man Dhamir Cosby-Roundtree (23 points and nine rebounds) and Walker and Philly-based Team Final were just too much for Florida's Each 1 Teach 1 and five-star forward Kevin Knox -- who was pretty dang good himself with 24 points and nine rebounds in the loss.
Villanova's Jay Wright wants Walker bad and was on hand but so were Syracuse head coach Jim Boeheim and Kentucky's John Calipari. Other schools represented by head coaches at the game included Alabama, LSU, Texas A&M, Florida Gulf Coast and Duke.
AYTON CONTINUES TO PRODUCE
No need to write too much about Class of 2017 No. 1 DeAndre Ayton. just know this, when his team needed him the most, he came up big. His 24 points, 13 rebounds and three blocks were a large factor in his California Supreme squad's comeback win over the St. Louis Eagles in overtime.
One of the questions about Ayton at times has been his competitive (or lack of) fire. Not an issue on Thursday night as he rose to the occasion and made every big play his team needed while playing with fire.
His spot at No. 1 in 2017 remains very legitimate.
Because of travel we were unable to see it, but Ayton opened his day at the Peach Jam by going for 23 and 18 in a win over Bagley and the Phoenix Phamily.
IS BARRETT No. 1 IN 2019, PLUS MORE THURSDAY NOTES
For our first game at the 2016 Peach Jam, we checked out U-Play Canada's 16U team against All-Ohio's 16's. The main reason? To see how legitimate a candidate 6-foot-6 wing R.J. Barrett is for the top spot in the class of 2019. As it turns out, the Canadian who plays his high school ball in Florida is very much a candidate. The play was a little ragged at times, but he's a big and athletic wing who seems almost impossible to keep from the rim. He can make some jumpers and on the 16 level the only defensive strategy appears to be mug him and hope for help from the refs. Duke, Kansas, Michigan State, Alabama and Florida State all had head coaches on hand and for now the race for No. 1 in 2019 appears to be between Barrett and big man Charles Bassey.
The King James Shooting Stars opened up a can of you know what on the Las Vegas Prospects Thursday night and a lot of it had to do with the inspired, efficient and tough play of 2017 four-star forward Kyle Young. With Tom Izzo and John Beilein among those watching from courtside, Young only missed one shot while scoring 24 points and grabbing eight rebounds in a blowout win. He's blue collar with a dose of athleticism and sweet shooting and still looks to be a bit underranked by us after a recent move up to No. 109 nationally.
As time wore on, Team Penny's bludgeoning of the Albany City Rocks on the board (43-23) was just too much to overcome in a hotly contested game. With North Carolina coach Roy Williams, Arizona coach Sean Miller and Calipari watching him closely, five-star forward P.J. Washington led the assault with an easy-looking 16 points and nine rebounds. However, the story was his supporting cast. Recently downgraded to four from five stars, shooting guard John Petty played with an energy we've not seen before in front of home-state school head coach Avery Johnson of Alabama. He was explosive on both ends and helped to set the tone. Class of 2018 point guard Alex Lomax provided intense on the ball pressure and dished out 10 assists without a single turnover. Also impressing were two sleeper 2017 prospects Galin Smith and Javon Franklin. Smith is a tough, rugged and athletic 6-foot-9 center who has an SEC-type frame and plays with huge energy off the bench. A 6-foot-6 wing from Arkansas, Franklin is an elite level athlete who was flying all over the floor to make plays above the rim and in transition.
We're not sure that 2017 wing Adam Seiko has a true position. But, he'll end up on the floor a lot before his time at San Diego State is done. The 6-foot-3 brawler is tough, defends and makes tough conversions at the rim. He gave Marvin Bagley a lot of help with 17 points, four rebounds and three assists.
Circling back to Bagley one last time, he wasn't the only potential pro big man on the floor in his game against Texas Pro Skill. Six-foot-11 shot blocker supreme Mitchell Robinson was making noise as well. Though he and the Pro Skill squad took a loss, Robinson was dominant himself in a 19-point, 13-rebound and five-block effort. Ranked No. 11 overall in 2017, Robinson is a big time talent and Western Kentucky's Rick Stansbury has potentially pulled off one of the all-time recruiting heists with his early acquisition of Robinson.